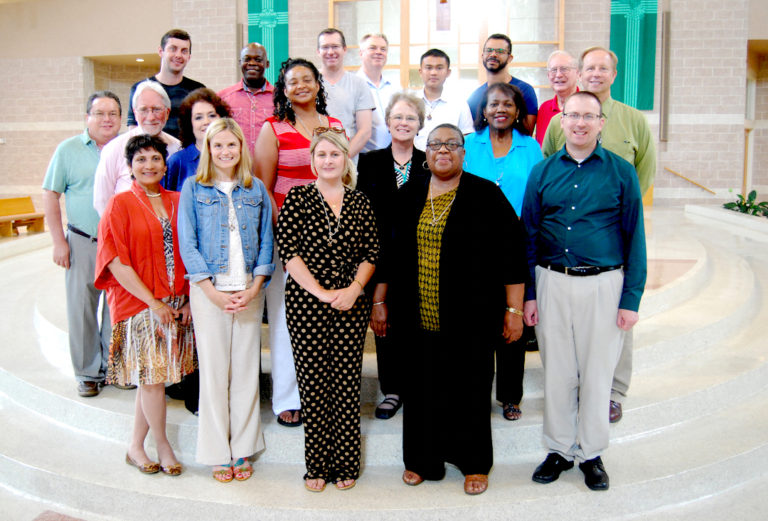 After a year of study and prayer together, nine members of the Sacred Heart Southern Missions staff and board made their first commitment as Dehonian Associates during a ceremony on June 15.
"Giving staff members the opportunity to share faith and learn more about the spirituality of Fr. Dehon will have positive effects in our workplace which will affect our relationships with each other and the people we serve," said Fr. Jack Kurps, who led the sessions; he is SHSM executive director. "The more that we can help people experience the love and mercy of Christ, the more Dehonian we will be."
The group utilized the Spiritual Path, a 10-session introduction to the spirituality of the Priests of the Sacred Heart. Developed by David Schimmel, director of the Dehonian Associates Office for the US Province, it is based on the congregation's formative program on the Dehonian charism.
Barbara Caldwell, Chris Greer, Laura Grisham, Lois Harrison, Clara Isom, Steve Koepke, Bridget Martin, Joyce Moore and Kelly Tartt made their one-year commitment as Dehonian Associates during the June 15 ceremony.
Sadly, Karen Jeltz, one of the participants, died before she could make her commitment. However, she was buried with the Dehonian cross.
Plans are underway to begin the Spiritual Path with staff at St. Joseph's Indian School in Chamberlain, SD, and with parishioners at St. Thomas More Parish in Toronto, Ontario.
Click here to read more.
Click here to view photos from the ceremony and celebration.