---
The International Dehonian Theological Commission (CTID) held its annual meeting November 30th to December 3rd at the Generalate.
At the meeting were Fathers Artur Sanecki (general councilor and president of the Commission), Stefan Tertünte (coordinator of the Dehon Study Center), Joseph Kuate (coordinator of the Dehonian Theological Commission Africa: CTDAF), João Carlos Almeida (coordinator CTDAL – Latin America), John van den Hengel (CTDAN – North America), Fernando Rodríguez Garrapucho (coordinator CTDEU – Europe) and Juan José Arnaiz Ecker (secretary); first-time participants included the new coordinator of CTDAS – Asia, Fr. Yudistiro, accompanied by his predecessor, Fr. Francis Purwanto.
Also Fathers Nanduri (IND) and de Oliveira Barbosa (BSP), scholarship students at the Dehon Study Center, had the opportunity to participate for the first time in the meeting as part of their training path, now in its second phase, to learn how the structure works. The General Government has used the commission as a consultative body for the themes of theological importance in our Institute and also to promote the coordination of the intellectual apostolate of the Congregation.
After sharing the activities taking place in the various CTDCs, the commission focused on the seminar in Yogyakarta, reviewing the budget, publishing the proceedings in a forthcoming volume of Studia Dehoniana and publishing, soon, in the next issue of Dehoniana, a study on the theme of Eucharistic Adoration. The conclusions of the work of Sister Nicla Spezzati were a part of the review.
Time was dedicated to reviewing and discussing the work of the theologian Marcello Neri entitled Justice of Mercy (EDB, 2016). A dynamic dialogue took place with an assessment of the work's methodological and hermeneutical proposal.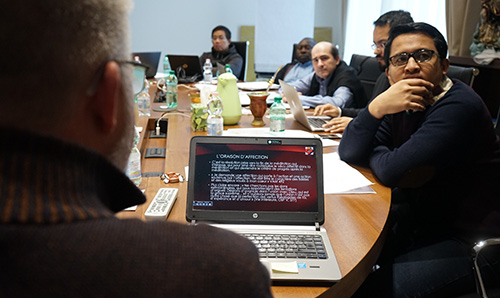 Much of the meeting was also taken up with a reflection on the status of Dehonian research, and structures in place in the Congregation to continue it. The dynamics of the theological commissions were reviewed, as well as possibilities for a theme for the next international theological seminar which will take place in 2020.