---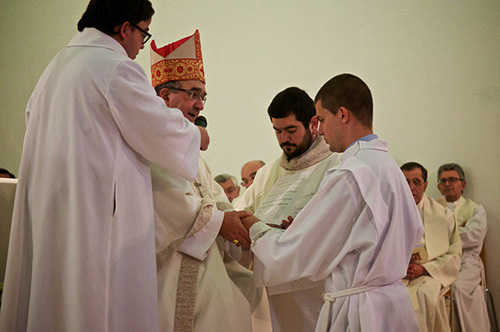 Sunday, November 26, 2017, was a great day of celebration at the Seminary of Our Lady of Fatima, in Alfragide.
There were so many reasons to celebrate! It was the Sunday of Christ the King, which was celebrated in communion with the whole Church, but then also were Dehonian moments: the Dehonian Memorial Day, the celebration of the 50th anniversary of the creation of the scholasticate of the Portuguese Province of the Priests of the Sacred Heart, and the diaconate ordination of the young religious Andrés Rafael.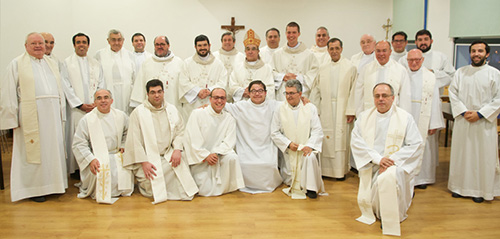 The Dehonian Memorial is placed near the days in which, in the 1960s, our confreres were martyred in the Democratic Republic of the Congo. We remember them together with the many others who paid with their lives for their service to the announcement of the Kingdom.
The Scholasticate of the Province was created 50 years ago at Prior Velho, and two years later changed its name to the Seminary of Our Lady of Fatima. We remember with great affection and gratitude all those who have passed through our scholasticate.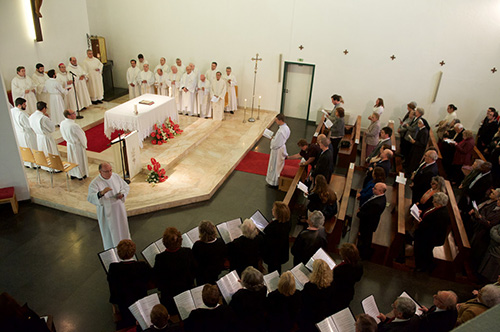 It was a privileged moment to thank God for all these reasons of celebration. The Eucharistic celebration was presided over by our confrere, Antonio Braga, bishop emeritus of Angra, who ordained Deacon Andrés Rafael. Of particular interest was the brief and curious dialogue that occurred at the end of the celebration between the bishop and the new deacon:
Bishop António Braga: "What do you want to be when you grow up?"
Deacon Andrés Rafael: "To be ready to serve!"
In the celebration we also joined in a prayer of thanksgiving with the Diocese of Santarém, on the day in which it welcomed José Stuzzicare as its new bishop.