---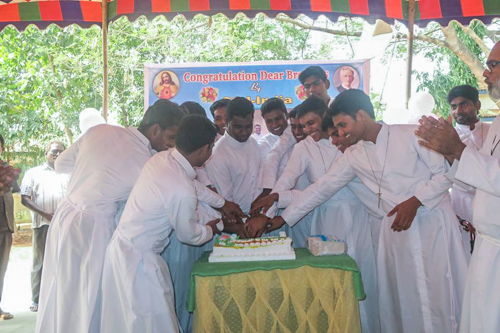 The Lord showered his blessings on all of us with the celebration of First and Final Professions on 01 May 2018. On this special day, 13 of our novices made their First Professions and Bro. Manu Thomas made his Final Profession in our congregation of the Priests of the Sacred Heart of Jesus (Dehonians). The celebration began at 6:30 a.m. with the Holy Mass celebrated by our district superior, Fr. McQueen Winston Savio, who preached on how to be a good religious. He also spoke about St. Joseph, who was humble and committed in his life. Finally, he gave thanks to our founding father, Fr. Martin van Ooij (now deceased), for his great missionary work in India. He called all the newly professed to live a life like Fr. Martin Van Ooij.
The weather was conducive for the celebration since it was held in the morning.
After the Holy Mass, breakfast was on the football court. Before the breakfast, the newly professed and Bro. Manu Kumar Thomas cut the cake as a sign of joy, giving thanks to the Lord. At the celebration were 15 priests and 17 nuns. Also attending were the family members of all the newly professed and Bro. Manu Kumar Thomas. The celebration came to an end at 10 am.
The newly professed said that they are happy to become religious in our congregation. They said that it is the happiest moment in their lives as they begin their journey of religious life. In the future, they all want to become missionaries, following the example of Fr. Martin Van Ooij. In the evening of the same day, as is custom, all the newly professed members went to a nearby restaurant for dinner. It was a time for them to share their joy and oneness.
Bro. Manu Kumar Thomas, who made his final profession, did his regency in Assam. He had a very good experience during his regency year, having met and related with people of different languages and cultures. He said that this enriching experience is vital and helpful for his religious life. His next step will be studies for a BA in Education; he will stay in one of our communities.
We wish the best for all of the 13 newly professed brothers and Bro. Manu Kumar Thomas as they take this new step in their lives. We thank them and continue to pray for them. May God be with them and guide them to be good religious in our congregation.