Immediately after the celebration of the 174th anniversary of Fr. Leon Dehon's birth, Fr. Heiner Wilmer, superior general, and Fr. Leopold Mfouakouet, general councilor for Africa, made a canonical visit to the Malagasy Region; this took place March 16-24, 2017.
They were greeted warmly by Fr. Yvon Mathieu, regional superior, as well as by the brothers of the Regional House and those of the Scholasticate.
On March 17 Fr. General made a courtesy visit to the Apostolic Nunciature of Madagascar to visit with His Excellency Mgr. Paolo Rocco in the morning.
The visitation started that evening with Mass celebrated with confreres and the Dehonian family in the capital Antananarivo.
The following day the visitation moved to Antsirabe which included a visit to Saint Joseph Athenaeum where Fr. General met with academic leaders, professors and students of the university. Fr. General urged all to maintain the motto "Science and Wisdom" and to remain always at the service of God, the Church and the country.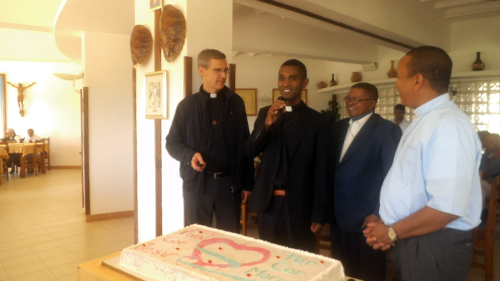 On Sunday, March 19, the deacon ordination of our colleague RASOLOFONIAINA Martin took place at the Novitiate Maison Père Dehon by the ordinary bishop of the diocese of Antsirabe, Mons. Philippe RANAIVOMANANA.
The next days were dedicated to the individual meetings of Fr. Heiner and Fr. Léopold with the council of the MAD Region and all the confreres.
They returned to Antananarivo and met with José Alfredo Caires de Nobrega, bishop of the Diocese of Mananjary. Lastly, they talked to the young religious students of the scholasticate community.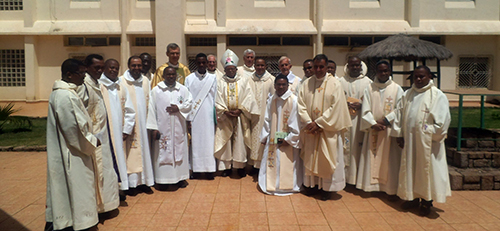 Our identity is based on a spiritual life, personal adherence to the person of Christ. We are passionate about Christ and as passionate about the world as was our founder. As Fr. General says: "Be men of God."