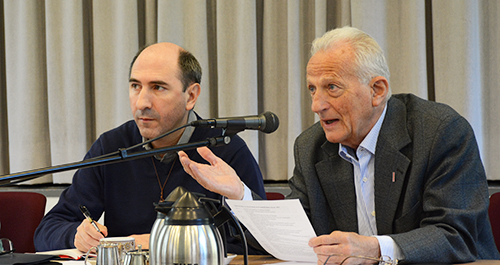 On Wednesday April 19, 2017, the council of the Confederation of the Flemish and Dutch Provinces held a meeting at Sacred Heart Monastery in Asten. The members of the council and others who were present, were –– as usual –– received with warm welcome by the community of the house.
Attending the meeting was a member of the General Council from Rome, Fr. Arthur Sanecki. He talked about General Administration's plan and meetings. In December, 2017, he will come back to the NLV Confederation for a visit together with Fr. Heiner Wilmer, superior general.
After a fine lunch, the meeting resumed with a discussion of the current situation of the NLV Confederation in regard to the chapter decisions of 2014.
The next council meeting is planned for October 25th. It will be an important moment in the life of the NLV Confederation: during this meeting an election for a new provincial and his councilors for the next three years will take place.