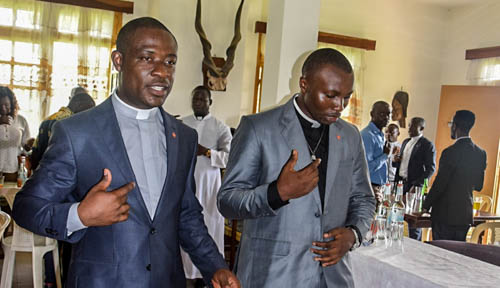 On March 18th, 2018, the Church of the Sacred Heard of Jesus in Nkongsamba (Cameroon), hosted the diaconate ordination of our confreres, Daniel Kouobou and Mathias Ebode. Mgr. Dieudonné Espoir Atangana, bishop of Nkongsamba, was the ordaining bishop; the Dehonians were presented by Fr. Jean-Marie Ngombou, the Provincial Vicar of Cameroon.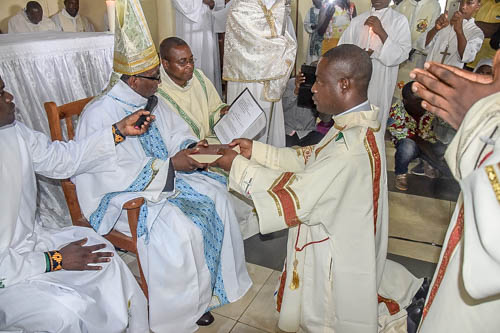 The ceremony was witnessed by many priests, religious men and women, lay faithful and the families of the two brothers who expressed their support to them as they came forward to take part in the work of the Lord. The solemnity of St. Joseph was also celebrated. This special day saw a change in the liturgical colour, purpose, sign of penance and conversion in this Lenten season, to white garments, the symbol of the Mount Tabor on which the Lord called us to witness his love for us. His marvels this day were manifested particularly to the new deacons. From the figure of St. Joseph, who abandoned his project to accomplish the one the Lord revealed to him by the angel, the main celebrant, in his homily, exhorted the new deacons to place their ministry under the sign of Divine Providence, in order to be guided by the will of Him who called them to his service.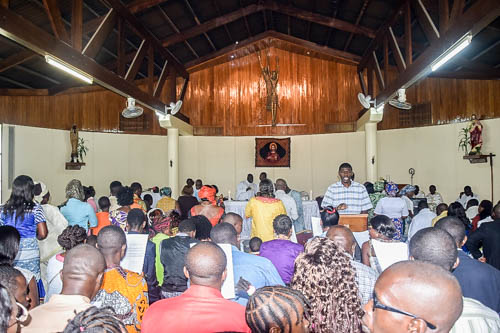 The newly ordained, full of joy and in their new liturgical garments, stood beside the bishop to carry out their new service. At the end of the mass, they expressed their gratitude to the good Lord who called them to his vineyard.
They also gave their heartfelt thanks to the bishop, who, despite his activities, found time to be with them. To the congregation, their families and many friends who helped them in one way or another, they also expressed their thankfulness. They asked all present to keep praying for them as they continue their journey towards the alter of the Lord.
After the mass, pictures were taken to keep in mind this unique moment in the lives of the newly ordained deacons. A meal was shared to bring the celebration to an end.