06 February 2017
06 Feb 2017
Dansolihon Chaplaincy begins construction of a new church

The Jesus Nazareno Chaplaincy in Dansolihon is a poor rural community, located around 30 km from Cagayan de Oro City. Formerly it was a part of Lumbia Parish known as a Zone IV. Due to the lack of priests in the mother parish the SCJs from the formation house in Cagayan de Oro were taking care of that area. At that time the local community was using for its worship an old church, which formerly belonged to one of the protestant groups. With the help of SCJs, the community was able to build a two storey formation house. The upper part was used for the training of lay leaders and the lower part  up to now as a chapel. The chapel is not big enough and cannot accommodate all the churchgoers.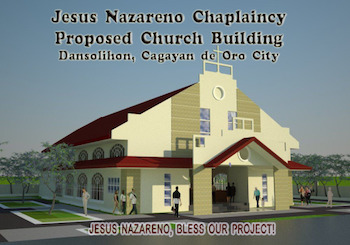 In 2007, the Zone IV was declared by the local bishop, Most. Rev. Antonio J. Ledesma, SJ,DD, as a chaplaincy and was officially entrusted to the SCJs. The priest in charge of the chaplaincy was residing in Cagayan de Oro formation house and going to the area to do the pastoral work. The furthest village is more than 50 km from Cagayan de Oro City. Only in May 2014, two priests and one religious brother started to live there in the little extension of the formation house. In this way the SCJs are more available to the people.
The long time dream of the community is to have a decent and conducive place for worship. With the help of the parish priest Fr. Jan Krzysciak, the community came up with the project of a new church, which costs around 10 Million Philippine Pesos. Since the community is quite poor, the dream to have a new church is quite "an impossible dream." The Parish Priest, Fr. Jan Krzysciak is trying to motivate the community and also to collect some money for the project. So far, the total amount they were able to raise is one forth of the needed funds.
Challenging the "Divine Providence", last January 24, 2017, the community started laying the foundation of the new church, and they will continue the works until the money last. Fr. Jan believes that this will further mobilize the community to look for more resources and will attract some people with generous hearts, so the construction might reach its completion.