---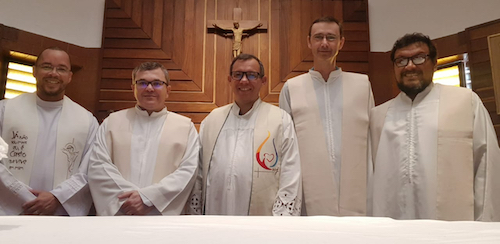 From February 10-15, 2020, five members of the Dehonian Theological Commission of Latin America gathered at the Dehonian Retreat house in Buenos Aires (ARG). The main purpose of this meeting was to study "Social Sin" in Latin America in view of the international Dehonian theological seminar to be held in Cameroon in July. 
The method of the work involved personal study and the comparison of ideas in the group. As a starting point for the discussions, we read documents from the Latin American Magisterium, pontifical documents and specialized articles on the theme of sin. The definition of social sin has been widely discussed and a broad consensus has been reached on its concept. We took into consideration the phenomenological approach toward social sins and tried to view each aspect through concrete arguments and consequences that sin brings for society.
It was a fraternal dialogue and challenging work for all the members in carrying out the task assigned to them. Within this atmosphere there was the possibility for all members to make their contribution in the discussions and proposals. Some things have been put aside, others have been brought to conclusion, and there are topics that continue to be developed. Teamwork is paying off and intellectual dialogue enriches each member of the commission.
We thank the members of our provinces for giving us the opportunity to make a contribution to deepen such an important theme for the consecrated life of the Dehonians.