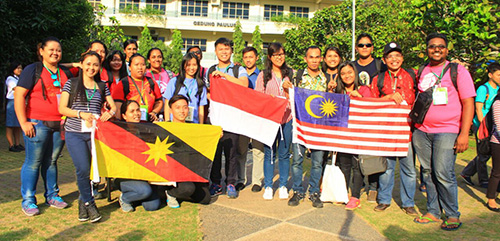 This is the 7th edition of Asian Youth Days in Yogyakarta, Indonesia. It began with "Days in the Dioceses" (DID), which was from July 30 until August 2.
"Jesus is our life; Jesus lives among you" said Archdiocese Bishop Antonio Alwin Fernandes Barretto of Sindudurg during the opening Mass in Palembang.
In that archdiocese, DID is run mostly by Dehonians. They are hosting 251 participants from India, Malaysia and Indonesia who are there to affirm their Christian identity by getting to know Jesus more closely. Young people are hosted in local Catholic families, which gives them the possibility to share and learn about their faith and others.
This is also a great opportunity to learn more about Indonesian culture. Young people were welcomed with garlands and the tanjak head gear and shawl.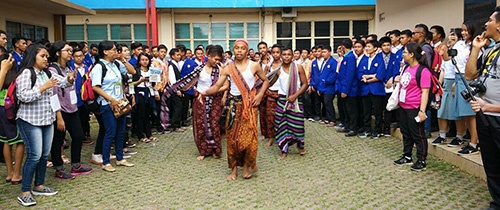 On Monday, July 31, the participants were invited to learn about mission works in Palembang City. The first one was the Roman Catholic Charitas Hospital. There the participants were entertained with a musical drama about the history of Charitas Hospital. The musical was put on by the Franciscan Charity congregation sisters, doctors, and employees of Charitas. Carmilina Pinto from the Diocese of Goa, India, said that she was really impressed with the magnificent building of Charitas Hospital. "It's a very good and large hospital. It's very clean, they have really good staff, especially the nuns," she said.
At the end of the DID, all participants will travel to Yogyakarta where the main AYD event will take place, August 2-6. The theme of the 7th Asian Youth Days is, "Joyful Asian Youth: Living the Gospel ‎in Multicultural Asia‎!"