---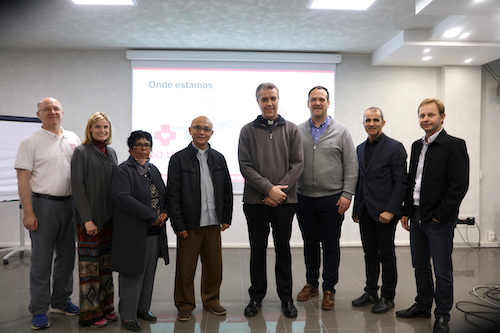 In the ongoing attempt to improve the quality of dehonian schools, the members of the "Educare" committee traveled to Rome for a meeting March 30-31. Two of the members, Brother Javier Lopez Martinez from Spain and Dr. Laurence Rason ep Ralamboranto form Madagascar, joined the committee for the first time. Dr. Laurence remarked, "I have come to hear others' experience and I hope to pass on the information to my colleagues to improve the way we teach according to dehonian values."
Each of the educators made a presentation about their educational institution. Dehonians serve in over 50 schools, ranging from small parish based elementary schools, to High Schools and Universities. While each level and cultural contexts is unique, past gatherings have highlighted the desire to find means of collaboration that can enrich each of the schools.
"Our work as an international committee of Dehonian Educators serves to strengthen our dedication not only to quality education but to teaching students that we are one in serving others. Our local communities have unique challenges and opportunities but they strive to highlight acceptance and service to all. The work of the committee to develop common themes, networks, and practices highlights the solidarity of Dehonian education throughout the world" (Bridget Martin, Principal, Southaven Mississippi, USA).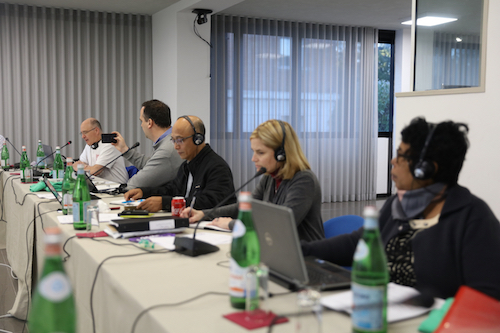 Fr. Adilson, from the South Brazilian Province, wrote an article entitled "Some clues for a Dehonian Education" to facilitate a discussion on dehonian pedagogy. These include:
• development of an ethic of values (constructing a civilization of love) that permeate personal life and all decisions;
• instill in people the desire to learn, to become lifelong learners;
• include service of the community and volunteerism as part of education;
• provide good models of healthy life.
Fr. Cláudio Márcio Piontkewicz, from Brazil commented: "Inspired by Fr. Dehon, we reflected globally about the Dehonian Educational Proposal, which deepens our identity and reaffirms our values. The work of the Committee is an impetus for advancing towards new horizons in the various areas of knowledge and enriching local actions, as we aim to fulfill our mission as Dehonian educators."
Because understanding Fr. Dehon's legacy is essential to our Educational project the group shared their practices for student and staff orientation. Fr. Donatus Kusmartono, from Indonesia, explained how their group of dehonian schools has created a series of books for children and for adults to help them understand who Fr. Dehon is and what values the SCJ congregation holds dear. All new staff participate in a dehonian retreat at the very beginning of their service.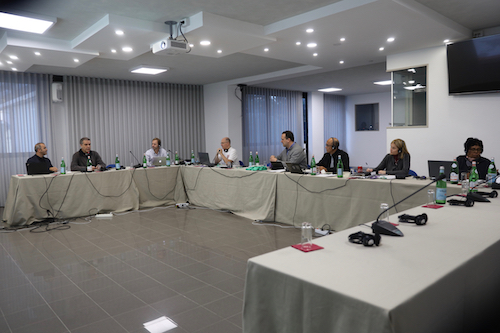 When you enter one of our schools, how do you know it is Dehonian? Do our teaching methods have general Dehonian objectives? The goal is to create a dehonian culture that is explicit enough that a new principal, teacher, or student, can clearly and quickly understand concretely what that means.
Fr. Carlos Luis Suarez, the Superior General, spoke to the group about his vision for dehonian Education and asked for ideas how to use the rich variety of cultures and resources of our schools to develop a deeper sense of "Sint Unum" across our world.
Brother Javier López Martínez explained: "Sint Unum" is related to the values of fraternity, communion, family spirit, communication, inclusive participation, reconciliation, a capacity to welcome and openness to others, which make life in common one of the most important axes of human life. At school, it is developed by:
• Family's participation in the activities associated with the center.
• Active involvement of the teachers group in the professional level and with the mission statement and core values of the school.
• Promotion of coexistence diversity and the concern for the other between the students.
At the end of the two days, the Committee worked on an action plan. Highest priority was given to develop materials about dehonian education that can be shared among the schools. They affirmed the theme of "Sint Unum" as a value to develop fin the coming year. Schools will be asked to reflect on how they live "Sint Unum" in their unique cultural context.
The committee re-emphasized the need to develop a strong web based platform in order to exchange information and ideas, and promote language and cultural exchanges.
The two General Councilors accompanying the group are Levi dos Anjos Ferreira and Stephen Huffstetter.