The holding of an extraordinary chapter was a significant event for our Indian District. It took place September 5-8 in Ashirbhavan, Kerala, beginning on the first night with supper and a short introduction to the chapter given by Fr. Jesus Manuel Baena.
On the first day, our previous district superior, Fr. Thomas Vinod, spoke about the achievements of our district in the last three years; he also he thanked all those who helped him and he wished the best to the new administration. He also released the new edition of our Mustard Seed magazine.
After his presentation, we had a 30-minute discussion. Some of the confreres raised questions and asked for clarifications. After a break, the district treasurer presented the financial situation of the district and explained the income and expenditures of all our communities. Following this, there was again time for discussion. In the afternoon of the first day Fr. Jesus Manuel Baena read our district directory; while he was reading we all followed and corrected the directory wherever it was needed.
On the second day of our extraordinary chapter Fr. Jesus Manuel Baena read the ratio formationis. While he read it we made corrections and additions to it. We also dealt with important issues regarding ESIC, the District, and the Sexual Abuse Policy. Fr. Ajit Baxla, who is studying at ESIC in Valencia, did good job of presenting all the necessary information on ESIC through Skype.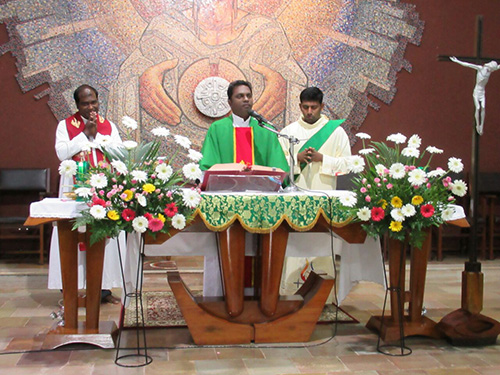 We also had time for discussion of fund raising and self-sufficiency. Many of the confreres proposed different ideas to raise funds for the district. The extraordinary chapter ended with the words of Fr. Stephen Huffstetter, who thanked the previous administration for its work and wished the best for the new administration on behalf of our General Superior.