23 February 2017
23 Feb 2017
First meeting of the Dehonian Asian Theological Commission
---
The first official meeting of the Dehonian Asian Theological Commission (CTDAS) took place at the Dehon Study House in Manila (Philippines) on February 11. All the members of the commission were present: Fr. Francis Purwanto, SCJ (Indonesia, coordinator), Fr. Delio Ruiz, SCJ (Philippines), Fr. Agus Suyono, SCJ (Taiwan), Fr. Yudhistiro Adi Fritri, SCJ (Indonesia), Fr. Joseph Dung, SCJ (Vietnam), Fr. Michael Augustine, SCJ (India, secretary) and Fr. Edoardo Aguero, SCJ (Macau). Joining the group was Fr. Arthur Sanecki, SCJ (the general councilor responsible for the sector of Spirituality) and Fr. Paulos Sugino, SCJ (general councilor for Asia). Fr. Francis Pupkowski, SCJ, regional superior of the Philippines, was present to greet the commission on behalf of the region.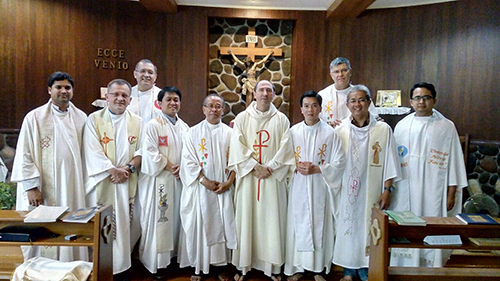 One of the primary objectives of the meeting was to simply begin to function as a commission, including establishing the statutes and structures of the CTDAS. Participants worked on a paper to be presented at the International Theological Seminar; the seminar's theme is "Charism and devotions: Towards an inculturated Dehonian Identity."
Fr. Sugino gave a history of the origin of CTDAS and invited each SCJ to make his contribution by sharing with others deep insights and research in various realms (spiritual, moral, theological, psychological, biblical and pastoral). Fr. Arthur spoke about the chief objectives and function of the CTDAS.
Participants shared their efforts in establishing the Dehonian identity in their respective entities. There was also an in-depth review of the results of a questionnaire done in preparation for the conference. Fr. Purwanto will organize the data and send it to the International Dehonian Theological Commission (CTID) in Rome by the end of February. This will include the reflections from each of the members of the CTDAS.
Members of the commission talked about how they could each contribute to it, to their entities and to the continent as a whole. Formal proposals and the statutes of the CTDAS were reviewed on the second day of the meeting. Fr. Eduardo was chosen to be the group's presenter at the International Seminar in Yogyakarta.
Each year during the week after Easter the CTDAS will meet for three days to discuss, share and prepare for the various happenings of the Congregation at the continental level. The meeting location will move throughout Asia.
Members of the CTDAS felt at home in this new mission entrusted to them by their superiors. They are determined to make significant contributions for the common good of the continent in their desire to establish an inculturated Dehonian identity. There is a profound sense of fraternity to deepen, to integrate, to inculcate, to internalize and to inculturate our Dehonian identity at the continental level.