---
SCJ community of Aliwal North
On 15th March Fr. General has finished his 2 week-long visit to South Africa. After Hilton and Pietermaritzburg the communities of Aliwal North, De Aar and Johannesburg shared with him their joys, hopes and concerns. Fr. Wilmer had a chance to meet almost all the SCJs as well as bishops of Kokstaad, Aliwal, De Aar and Johannesburg.
In Aliwal North four retired confreres reminded him about our 93 years old SCJ "past" in South Africa; in De Aar he has seen some of our SCJ "present"; in Johannesburg some possible "future" has been displayed to him.
Fr. Heiner Wilmer and Fr. Anthony Austin SCJ
The meaningful visit ended in Johannesburg with the Eucharist celebrated by Fr. General in one of the Soweto parishes and with a visit to the Soweto house of the late President Nelson Mandela.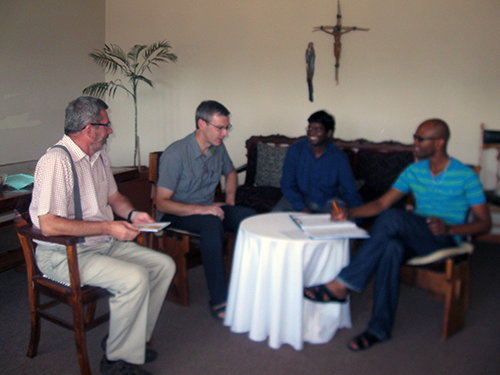 SCJ community in De Aar
On the day of his departure he also met with Archbishop Buthi Tlagale of Johannesburg. There will be many points in his forthcoming letter to the RSA Province but one of them became already clearly visible: our SCJ mission in South Africa is not yet complete – it evolves and this process has to continue.
Fr. Marek Przybyś, Archpishop B. Tlagale of Johannesburg, Fr. General
In Soweto