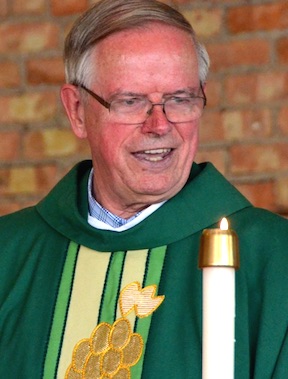 The start of the new school year also means the start of the First Friday presentations at the Dehon Formation Community in Chicago. Last week Fr. John van den Hengel, SCJ, was the first of the year's presenters. His topic was a continuation of the theme he addressed at the Province Assembly in June: "Mercy."
"To what does mercy call us, or summon us?" asked Fr. John. "How can it be our vocation?
"Your forefathers in the US Province said that you will find this call of the mercy of God by responding to the Native Americans in South Dakota and in Mississippi among the poor, especially African Americans. Both Native Americans and African Americans have left a legacy that is not easily healed. Their situation is probably the most intractable of your social questions. I know that there are others. But these are the ones that are staring you in the face.
"I do not say this because I have a special agenda. There may be many other moments in our personal experience where one cannot escape feeling the infinite pull of mercy. But your province has made a great commitment to these people. In other words, the response to God's mercy has great repercussion for our Dehonian spirituality in the US Province…
"That is how we should be known. We should be known as being neighbors to the African Americans and Native Americans, like the Good Samaritan who found a wounded person in the ditch and helped him with such abundance. We should be known as men of compassion, people of mercy…
"We have experienced God's mercy in the face of the other and we seek to respond with extravagance, with unlimited generosity or abundance, with thanksgiving. That is why the Eucharist is so central to us. It is the gift of God to us, of His mercy."
Later this month we will publish the annual Formation Community profiles in which members of the community –– both students and SCJs in final vows –– share a bit about themselves and their vocation.