---
In our society today, things change very fast. In the past, we built solid houses meant to endure for a long time. Today houses are very temporary. They can be changed quickly at any time.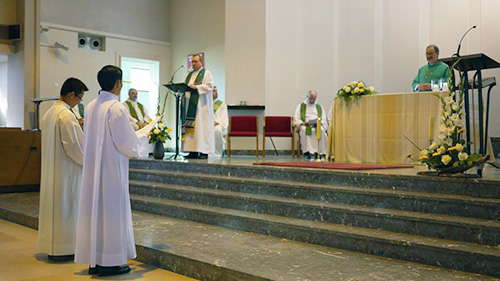 In the same way, family ties and professions can seem unstable too. "When anything goes," said H. Nouwen, "everything is allowed, everything is worth trying, and then nothing is sacred, nothing venerable, nothing is worth much respect". Can we make a permanent commitment? It's not easy today.
However, I made the choice of religious life forever with joy and confidence. I'm happy for this decision. And for that, I am grateful to the Congregation of the Priests or the Sacred Heart, the Dehonians.
I'm happy because I have a conviction that I have made a good choice in following Jesus. He is a true worth, a worth that stays forever. He is, said St. John, the way and the truth and the life (Jn 14,6). To young people who ask Jesus what one must do to have eternal life, he says: "If you want eternal life, keep the commandments", and "If you want to be perfect, go, sell your possessions… Then come, follow me".
I'm happy because I feel that God loves me, and He is always faithful in his love for us. It's not us who can be faithful forever, but God. Only in God we can stay forever in our commitment.
I'm happy because I'm not alone in this religious path. In this Congregation, there are confreres who walk with me in a style of life that the founder, Fr. Léon Dehon, transmitted to us. And there is the Church, the people who pray for us and walk with us. In God all of us may be one (Jn 17,21).