Monsignor António de Sousa Braga was born on March 15, 1941 and was 81 years old. He took his first vows on September 29, 1962, was ordained priest on May 17, 1970 and ordained bishop on June 30, 1996.
He was currently living in Lisboa (Portugal). He belonged to the Province POR.
Do not let your hearts be troubled. You trust in God, trust also in me. (Jn 14:1)
---
Bishop António Braga, Dehonian, Bishop Emeritus of Angra, has passed away in Lisbon. The Portuguese Province of the Priests of the Sacred Heart of Jesus expresses to his family and to the entire Diocese of Angra where he exercised the Episcopal Ministry between the years 1996 and 2016, our condolences for the death of Bishop António Braga.
As a Province, we give thanks to God for the gift that was for us the life and testimony of D. Antonio. His simplicity and kindness and the way he dedicated himself to the service of the Province and the Congregation made him an unforgettable person and confrere for us.
We ask God to embrace him in this moment close to his heart. That heart that attracted him and led him to a total consecration. May he find rest and peace in the heart of God.
Give him eternal peace in the splendors of perpetual light, May his soul rest in peace. Amen.
Fr. João Nélio Simões Pereira, scj, Provincial Superior
---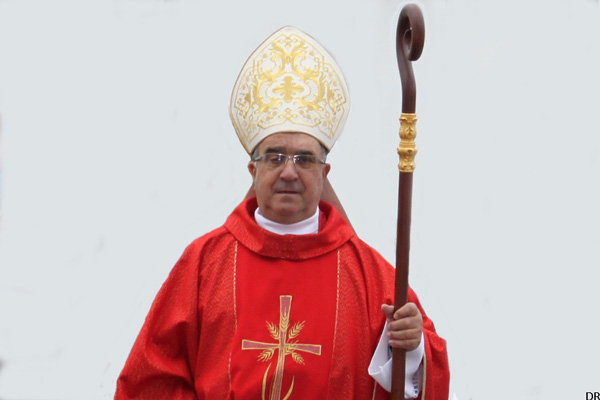 Curitiba, August 24, 2022.
Dear Confreres,
On the 22nd of this week, the definitive Easter arrived for Msgr. Antonio de Sousa Braga, Bishop of Angra (Portugal). He ardently desired it, since he had placed his life permanently in the hands of the Sacred Heart of Jesus. For Him he lived and for Him he died.
I would dare to define Msgr. Antonio as "the very good Father Antonio". A truly cordial man. Those of us who knew him can be witnesses of his goodness at all times and in all places. A kindness that was manifested in the warmth of his welcome to anyone who approached him; in his attitude of listening; in his words and advice of encouragement accompanied by a smile and a handshake.
Msgr. Antonio left an unforgettable mark on our college in Rome, first as a theology student and sociology laureate. Later as a General Councilor.  In the years of the post-conciliar renewal, he was in charge of the technical work of the CIRIS survey that Fr. Bourgeois launched to the Congregation. The aim of this survey was to know in depth the state of the Congregation in terms of its experience, acceptance, and esteem of Dehonian values in order to later reflect them in the new SCJ Constitutions. Msgr. Antonio worked on it with extraordinary intensity. He counted on the collaboration of some of the young students and was able to present a good result to Father General and to the Congregation.
In Portugal, among other positions, he served as Provincial Superior. Those were good times. The Lusitanian Province was growing. Vocations were flourishing. Pastoral activities were increasing. Msgr. Antonio was an incentive to promote all these things and also to promote the joint work between the provinces of Portugal and Spain, especially with the realization of the Iberian Weeks between both provinces. In his time several meetings were organized and the experience of the "Iberian Weeks" between the two provinces came to fruition.
He was elected General Councilor of Fr. Virginio Bressanelli (1991). His presence and performance in the different chapters and provincial conferences he attended were always positively valued.
He was called by the Pope to serve as Bishop in Angra (Portugal) in 1996. For 20 years he exercised this ministry with dedication and total commitment, always leaving the value of his testimony of life and his affable word. He made himself all things to all and strengthened his work from the Dehonian charism, lived and shared without rest.
Illness was present in his life. Due to its seriousness, he presented his resignation to the Pope in 2012. He spent the last years of his life in one of our communities in Alfragide, Lisbon. He left all protagonism, but in everything he could do in the service of evangelization, he did it. His life was an effective witness of being a Dehonian in all circumstances.
In accordance with what has been established by our General Directory (DG 69.4), I would like to ask each brother priest to celebrate a Holy Mass in his suffrage (petition) and that all the members of the Congregation have the opportunity to join in prayer to thank for the gift of life and service of Msgr.  Antonio, asking the Lord to welcome him into Himself, in the fullness of life.
To the SCJs of the Province of Portugal, to his companions in the episcopate, to his family and friends, our condolences and prayerful support.
Fraternally, in Corde Iesu
Fr. Carlos Luis Suárez Codorniú, scj, General Superior