---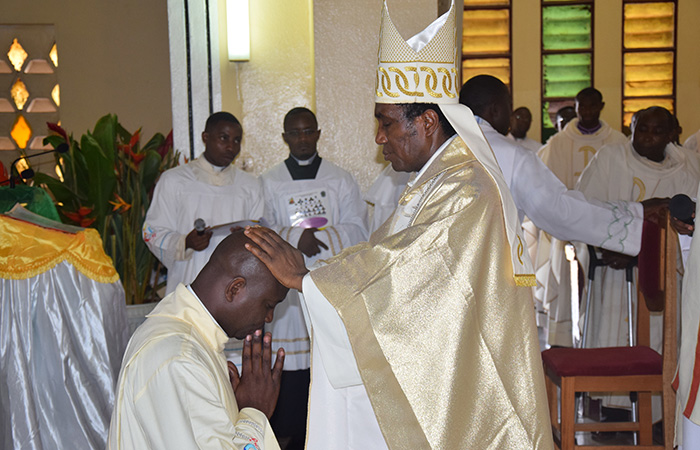 Promptly at 9:00 a.m. on Saturday, January 28, 2017, the Eucharistic celebration for the priestly ordination of Rev. Théophile Mbopda began. It took place at Immaculate Heart of Mary Cathedral. The newly ordained priest received the anointing from the hands of the Most Rev. Dieudonné Espoir Atangana, Bishop of Nkongsamba. The mass was celebrated by the bishop surrounded many confreres and other priests from different dioceses of Cameroon. The lay faithful, from far and near, were also out in number to witness the joyful event.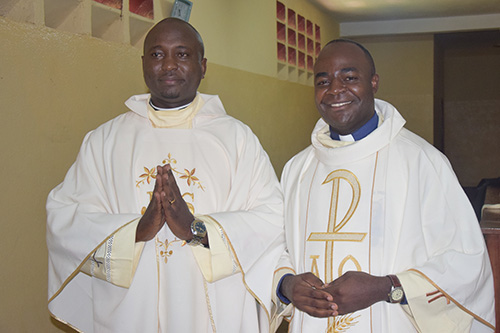 In his homily the bishop reminded those gathered of the necessity of faith, rooted on the faith of Abraham, the faith that enabled him to give in sacrifice his son. God is not cruel when he asks us for our sons to be his servant. He, the Lord, was the first to give up his Son for our redemption. The gift of our life for the service of the Lord is an act of faith. The mission of the priest is like a perilous sea. There will be storms but the Lord is there calm the sea. Why should we be frightened? We should remain faithful to him.
The marvellous celebration ended with a party, during which the newly ordained priest received gifts from friends and family to support him in his new mission.
At 10:00 a.m. next day Fr. Théophile Mbopda celebrated his first mass at Sacred Heart of Jesus Sanctuary at Nkongsamba. Around him were many confreres. The first steps as a priest are the most important, but they are tottering steps. That's why it was necessary to have so many confreres help the newly ordained priest take his first steps. Surely in the Lord, those steps will quickly become strong. As the Lord says: "My grace is all you need, for my power is greatest when you are weak." (2 Cor 12, 9)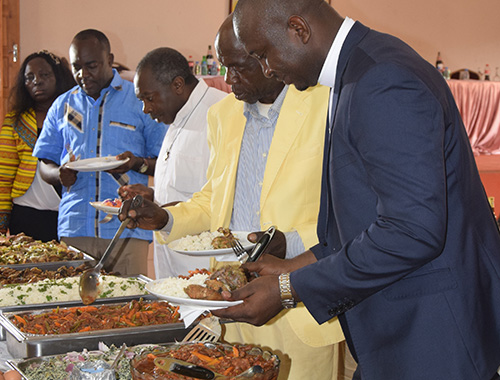 Lord who chose workers for your harvest, kindly bestow on the one you have configured in a special way to your Son to continue his work with the graces he needs to be faithful to his mission and stand firm in his faith, despite the difficulties he will face.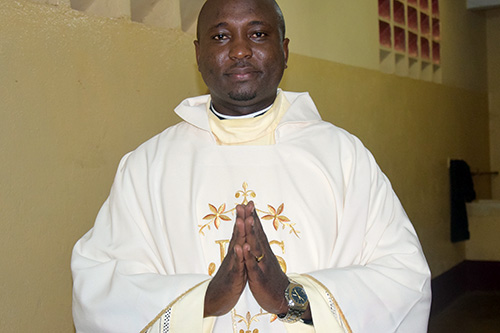 "Mother, put in me the love that was burning in your heart for your son. I who am weak, I admire the mystery of your Immaculate Conception. I highly desire it: purify my heart for it to love God more fully; purify my spirit for it to raise toward him and gaze at him, adore him and serve him in spirit and truth; purify my body for it to become a tabernacle lest unworthy to receive him when he comes to me in the Eucharist. Amen."