14 January 2017
14 Jan 2017
Priestly Ordination of two Vietnamese SCJs in Manila
On January 8, 2017, on the Feast of Epiphany, which in the Philippines is celebrated on Sunday after January 6, two SCJs from Vietnam: Dn Dang Van Nguyen and Dn Luong Van Nguyen were ordained priests. The ceremony of ordination, as in most cases, took place in the San Lorenzo Ruiz Parish in Tierra Verde Homes I Subdivision in Quezon City, a walking distance from the Dehon House, which at the present is under the pastoral care of three SCJ priests.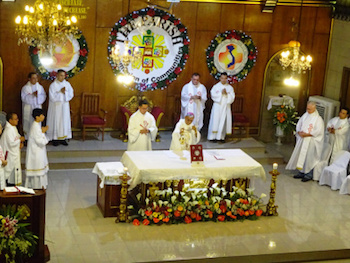 The ceremony of ordination headed by the Bishop of Novaliches, Most Rev. Antonio R. Tobias, DD, was held during the main Sunday Mass at 10:00 am, and it was attended by many SCJ confreres from Vietnam and the Philippines, priests and religious from different congregations, family members and friends.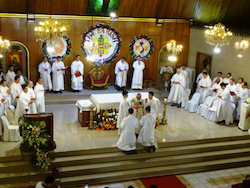 Fr. Dang  is 33 years old and comes from the Diocese of Thai Binh, while Fr. Luong is 37 years old and comes from the Diocese of Bui Chu. Both of them arrived in the Philippines on September 30, 2007, where they underwent the process of initial formation and completed their studies. Prior to this, both of them were active in the Church; Fr. Dang was the organist for the children's choir and Fr. Luong was the leader of altar servers. Fr. Luong wanted to become a diocesan priest, but due to some circumstances he was not able to fulfill his plans. Instead of entering the seminary he went to Saigon to continue his studies. In Saigon he met Fr. Jerry Sheehy, SCJ, who invited him to join the Congregation of the Priests of the Sacred Heart of Jesus. Fr. Dang's vocation to the priesthood was born when he was still in the grade 6. As he relates "I felt that I am a sinful person and I should become a priest to repair it." In Saigon where he studied and taught catechesis in a Dominican Parish, he met also Fr. Jerry, who deeply impressed him and helped him to enter the seminary.
Wishing to the newly ordained priests all the best, especially perseverance in their vocation and serving the people, we offer a prayer for them as we expect them to pray for us too.