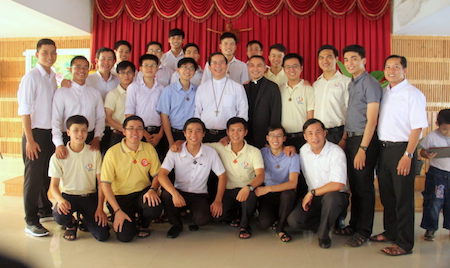 Fr. Francis Vu Tran, SCJ, originally from the US Province, now serves as superior of the District of Vietnam. He recently wrote with news of the blessing of a new property in the district as well as about the house itself. Fr. Francis writes:
Yesterday, October 9, 2016, the bishop of Phu Cuong Diocese, Mgsr. Joseph Tuoc Tan Nguyen, came and blessed our new property in Lai Thieu. We had around 100 guests and benefactors who joined us in the celebration. The ceremony marked an important step for our district. It is the first time since the beginning of our presence in Vietnam that we move beyond the boundary of the Archdiocese of Saigon. This is in an area close to Saigon that still needs a lot of evangelization. The people are very simple yet their faith is strong.
Yesterday's celebration was a blessing from the Lord. We, the district, experienced His mercy and love toward our community and our congregation. Not only do we have a blessing from the bishop, the two pastors who are close to the property also came and joined our celebration. Also, representatives from the government came and joined us. It is an important step for our district to have a good relationship not only with the bishop but also with the government. They encouraged us to live peacefully so that we can bring God's mercy and love to the people where we live and minister.
The celebration marks an important step for our district. Currently we have three members in final vows at the house and13 pre-philosophy students. The students spend their time in study for the entrance exam to various philosophy schools in the city next year and learn how to live in community. Two days a week, I come and live among them to share a common life together with the students. I also teach them conversation and help them with their pronunciation. Of course with my Vietnamese American accent they learn how to speak English with the American and Vietnamese accent. Welcome to the United States of America!