---
The morning of Saturday, April 16, Dehonians of the General Curia and the International College went together on a pilgrimage to the Church of God the Merciful Father.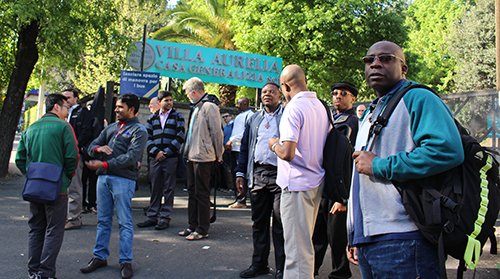 This was an opportunity to experience the spirit of this Jubilee Year proclaimed by Pope Francis. It is also a place to recall another Jubilee year, the Jubilee of 2000 proclaimed by Pope John Paul II.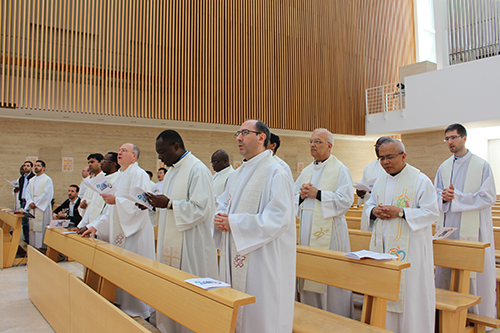 There were two key moments during this special morning: the presentation made by the pastor of the church and the Holy Mass at which the superior general, Fr. Heiner Wilmer, presided.

The pastor explained the interesting history of the church and the symbolism of the building. The Church's nave recalls a boat and three sails.
The building was designed by the American architect Richard Meier, who won a contest held by the Archdiocese of Rome in view of the Jubilee of 2000. It is a fine example of modern architecture. It was the architect's intent that the sails would symbolize the Church sailing into the new Millennium.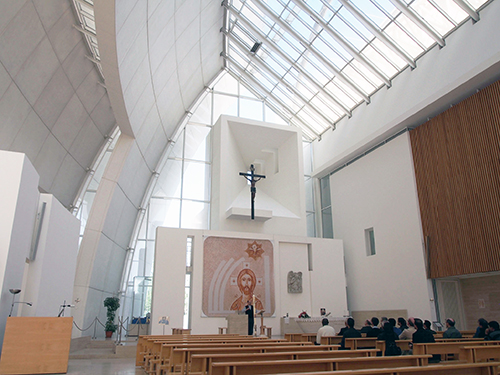 After the Mass, each participant was able to tour the church and its grounds, and enjoy the architecture of the building. Thanks to the play of light that the architect incorporated into this place, the Church is an environment that lends itself to contemplation and meditation.