30 March 2016
30 Mar 2016
Fr. Innocent Feugna named vicar general by the bishop of Nkongsamba
While the whole presbyterate of the Diocese of Nkongsamba was gathered around its bishop for the Chrism Mass on Thursday, March 24, 2016, a surprise announcement was made. At the beginning of his homily Bishop Dieudonné Espoir Atangana said that he had appointed a vicar general. At first, it seemed as if the bishop had been misunderstood.
Since the death of Monsignor Martin Epalle, the elder brother of our dear confrere Father André Eluti, SCJ, the diocese was without an official vicar general. At the end of the Mass, before the final blessing, the bishop announced that again the diocese would have a vicar general. Everyone was waiting to know the name. Generating a bit of suspense, the bishop took his time in receiving the symbols of his ministry, putting the miter on his head and taking the crozier in his hand. He then called upon the one who would help him specifically in his ministry.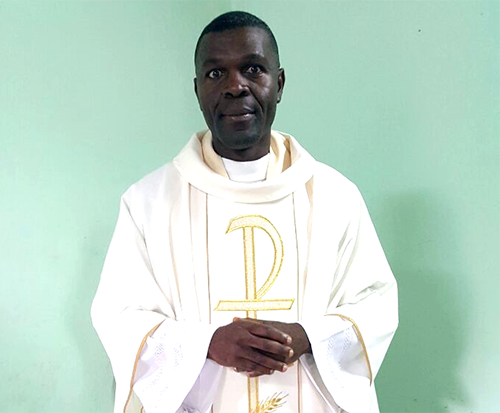 Against all expectations, the bishop invited Father Innocent Feugnaè, SCJ, to greet the people of God in his capacity as vicar general of the diocese of Nkongsamba. It is an honor for the SCJ Province of Cameroon because this diocese had as its first bishop Monsignor Paul Bouque, SCJ, our confrere. It is a tribute to that pioneering bishop, who was a member of the Congregation of Priests of the Sacred Heart of Jesus. Father Innocent Feugnaè is superior of the community house of Paul Bouque Ekangté and pastor of St. Paul Ekangté Church.