Overview of emerging social problems
Dr. Agnès Rausch, a Luxembourgian sociologist, recently worked with the SCJ Major Superiors of Europe to discuss social issues. She noted the weakening of social ties in society; social ties at the base of our society no longer exist for many people. These and other concerns have contributed to the rise in suicides. In fact, in 2010, 61,000 people committed suicide in Europe. She noted that traditional families are also becoming a thing of the past.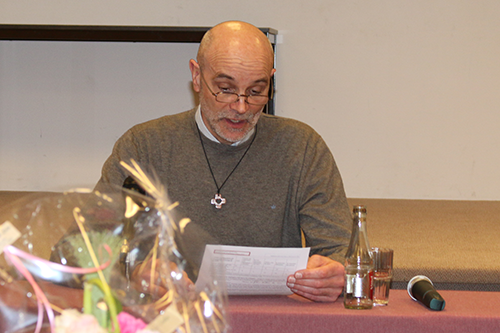 The number of jobless dropped in 2014 but it is still at nearly 22 million. Many of the unemployed are under 25. But at the same time, there are many new initiatives for work, founded in solidarity.
One of the thorniest issues for Europe at this time is immigration. The need for family reunification and requests for asylum are growing and must be addressed.
Moreover, the Schengen Agreement affirms that those who enter Europe for asylum must seek it in the first country in which they enter. It is clear that the issue of asylum seekers can't be left to Italy and Greece. Many of those coming to Europe are Muslims. Immigrants who are open can be well integrated but those with fundamentalist views may have more a challenge to find a place in society.
There is a need to unify and to strengthen initiatives
The presence of Dehonians in society is varied and initiatives found in the entities reveal fragmentation, but at the same time a capacity to respond to the issues of Europe.
– There was discussion of a European Justice and Peace Commission to coordinate the volunteer and the missionary groups that address Social Justice issues and concerns.
– With regard to immigration, there is a willingness to work together with civil institutions and local churches. A group or committee could be developed to identify common guidelines for the entities.
– Various possibilities for collaboration in formation were identified.
Fr. Fernando Rodriguez Garrapucho of the European Continental Theological Commission discussed its history and plans for the future.
The Major Superiors decided to hold one meeting a year, with the possibility of other meetings held as needed. One or more delegates from each entity will be invited to take part to broaden the knowledge of the membership.