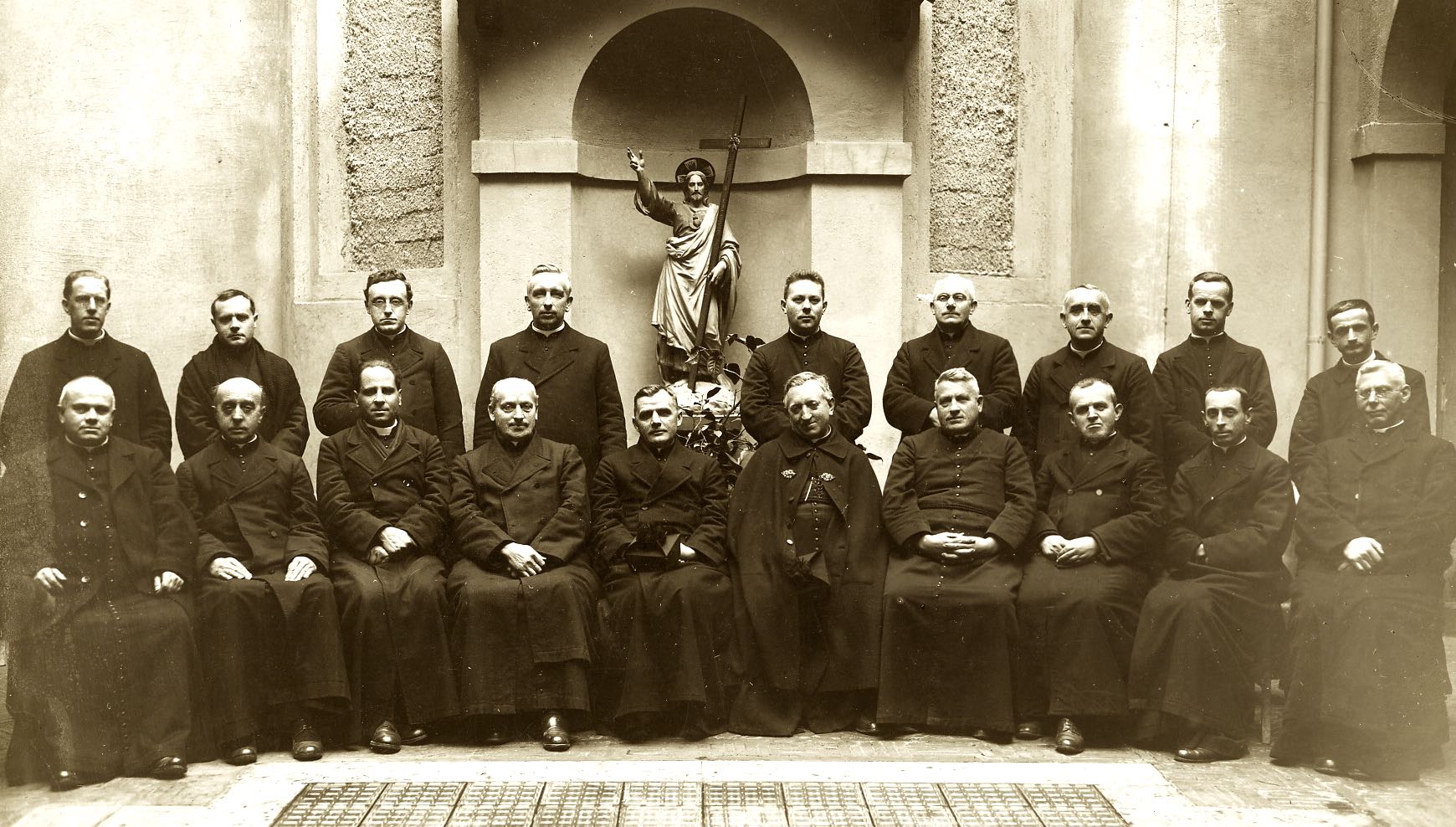 Delegates at the IX General Chapter in 1926; seated in the middle, directly in front of the statue is Fr. Joseph Laurent Philippe, the first member of the congregation to succeed Fr. Dehon as superior general.
In less than a month the XXIII General Chapter will be well underway.  Seventy-nine delegates from over 40 entities will be seated in a state-of-the-art meeting hall complete with professional translation assistance and multimedia capabilities. More than ever before they will reflect cultures of the southern hemisphere in Asia, Africa and South America; the changing face of the congregation.
Quite a bit different than 1926 –– the year of the IX General Chapter. Held in Rome, January 19-28, it took place four months later than originally planned. The selection of delegates and preparation for the originally scheduled September 1925 chapter was halted due to the death of Fr. Leo John Dehon in August.
After receiving an indult from the Vatican to hold an election rather than a business chapter, members of the congregation prepared for their first General Chapter without their founder.
There were 19 delegates (all of whom were European) and the minutes were written in Latin. On the second day, Fr. Joseph Laurent Philippe was chosen as the first successor to Fr. Dehon. Later that day the general council, the secretary general, general bursar and procurator were elected.
Before the day came to an end the delegates also voted to move the Generalate from Brussels to Rome.
A busy day.
The rest of the chapter dealt with a review of the constitutions; amendments were made as needed. On January 28, prior to the chapter's close, delegates had an audience with Pope Pius XI.
It was a significant turning point for the Priests of the Sacred Heart. The congregation was no longer led by its founder, Fr. Dehon, who had actually asked the Vatican if a coadjutor with a right of succession could be named at the originally scheduled September chapter. The Vatican denied the request since the selection of a superior general is a right reserved only to a general chapter.
Then, as now, general chapters were recognized as the highest authority in the congregation.
The XXIII General Chapter begins on the evening of Sunday, May 17 and is scheduled to conclude on Saturday, June 6. The theme: "Merciful, in Community, with the Poor."
One of the primary tasks of the chapter? To elect the ninth successor to Fr. Leo John Dehon, the eighth Dehonian to lead the congregation since Fr. Joseph Laurent Philippe.