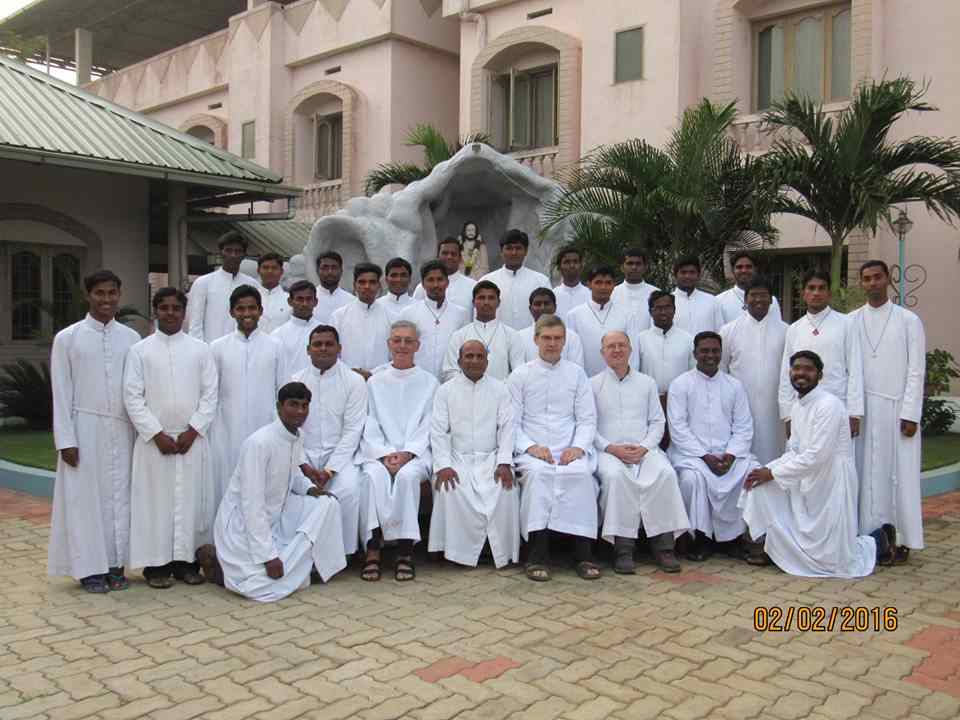 The long awaited day had finally come with the visit of our very dear, Very Rev. Fr. Heiner Wilmer, SCJ, and Rev. Fr. Steve Huffstetter, SCJ, together with our District Superior Fr. Thomas Vinod, SCJ, on the 1st of Feb. at 12:00 pm. The delay of their flight for two hours did not in any way lessen the spirit of the brothers, most of them would see our new Superior General face to face for the first time. The noise of drums and bugles rent the air as we approached the entrance gate. The Superior General and Fr. Steve were being garlanded and offered bouquets as were led them to the house with dancing and singing. At the main entrance Fr. Mariano, officially welcomed the Fathers with a few words and were again greeted with the traditional Indian welcome ceremony and welcome song.
This was followed by lunch and rest. The Afternoon program began at 3:00 pm, with the Superior General and Fr. Steve meeting with students for 15 minutes each. The meetings lasted until 6:45 pm, followed by the Holy Eucharist, presided over by Father General, then, supper followed by an anticipated birthday celebration and cultural program that lasted until 9:30 pm.
The second day, that is the 2nd of Feb., kept Father General and his councilor even busier. Fr. Steve celebrated the Holy Eucharist for the community. The morning meetings were with all the finally professed members including Fr. Jayaraj SCJ, who is visiting our community. In the afternoon there were the resumption of talks with the theology students, that went on untill 6:00 pm, and then our Father General and Fr. Steve left for our parish in Vempadu to have a look at the parish and its sub-stations. He had a rapturous welcome by the parishioners and the people at each stop. Fr. Jojappa, took the fathers around and showed them our new community house now under construction as well as the rented house currently serving the community. They returned at around 10:30 pm, all really tired!
This morning the 3rd of Feb. Fr. Thomas offered the Holy Eucharist, and then we had a community photo session followed by breakfast. After breakfast all the scholastics thanked the fathers and said their good byes. Fr. Gopu is driving our fathers to Namburu as I write this report. God Bless.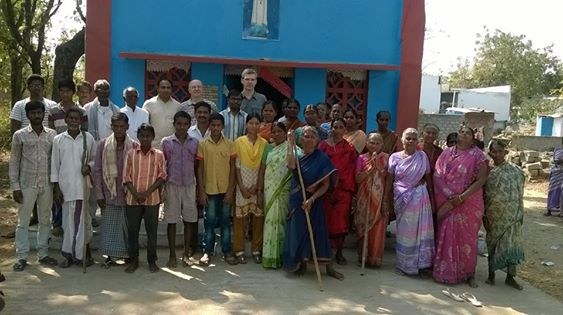 We are very happy to welcome our beloved guests Fr. Heiner Wilmer, Fr. Steve, Fr. Thomas, Fr. Balraj and Fr. Anil to our community in Nalgonda. In the morning around 9:30 our fathers came to our community and Fr. Baskar and Fr. Joseph kumar received them with happiness. They spend couple of minutes in the house and had refreshments and had small conversation among ourselves. After that we drove them to the village and our parishners gave warm welcome with garlands and heartful wishes. Fr. Heiner and fr. Steve introduced themselves to the people present over there. Fr. General expressed his happiness and spoke to our parishners and Fr. Baskar translated to Telugu. After that we had group photo with everyone present there and our general and fr. Steve blessed our parishners.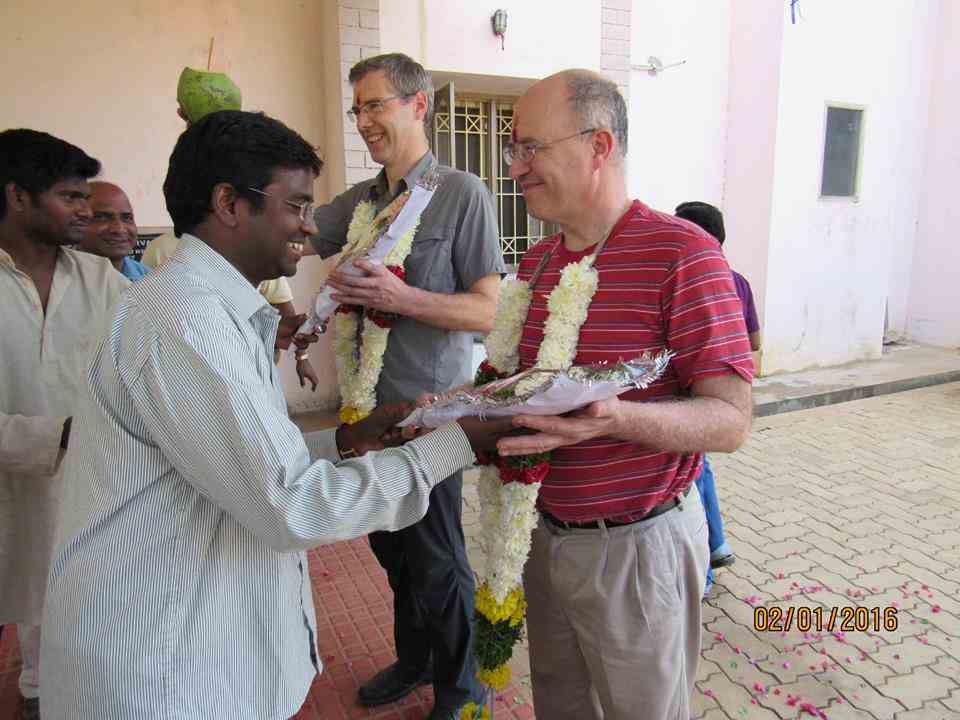 Fathers also saw the present situation of the church and expressed their concern and happy to see the simple people who express their faith and love. On the return from the parish we just stopped near the proposed land for the new church near to village. We also had personal talk with Fr. Heiner and Fr. Steve. We were happy to happy personal time individually and express our views on our new projects in Nalgonda. Our villagers prepared delicious lunch for our guests and our guests enjoyed bit spicy food. Around noon after lunch just after little relaxation started to Guntur. On the return journey our guests stepped into new land which we are planning to buy and start our new project of orphanage. Over all, the visit of our general Fr. Heiner and Fr. Steve was fruitful and meaningful. We were touched by their simple approach and heartful conversation.