---
Today we recap the beginning of the Incarnation, and tomorrow on Christmas, we celebrate its fulfillment in the Birth of Jesus — a very short Advent.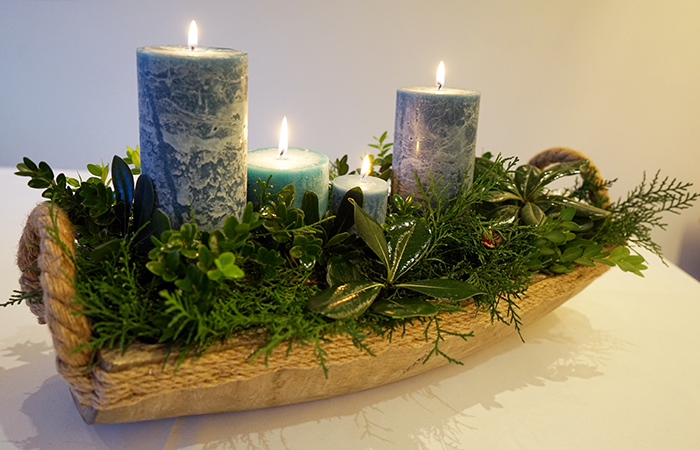 How many fear flying or letting another drive because we like control! Yet our Gospel shows us Mary, willing to let God's Spirit come upon her and fill her and leave her bearing a baby. Her "Fiat," her "May it be done to me according to your word," is the ultimate in letting another, letting God, have control in life. Among us who follow Father Leo Dehon, this is the beginning of our core spirit, welcoming the Spirit into our hearts. In doing this, Mary becomes the mother of Jesus, the Son of the Most High.
Like any new mother, how deep must be her loving response to welcoming her baby Jesus into her body, into her life. This will naturally be our response also, if we reflect a moment on the fact that when we welcome God's Spirit we receive Jesus living within us, and we love Him.
This moment begins a new life for the Son of God, for now Jesus is flesh, and is Emmanuel, God among us. Jesus begins His mission on earth by loving Mary and loving His Father and the Spirit who brings Him here.
In this moment He gives His all, saying, "Ecce Venio," "Here I am, O God, ready to do your will." How much easier it may be for us to live this more active way of relating to God. We think we are in control, loving God back, along with Jesus.
This moment begins a new life for Mary as she nurtures this baby for nine months within her, and then begins many years of caring for Him, and cooperating with Him in His learning; in His relating and loving; in His praying; in His working in the shop with His father; in His branching
out to preach and teach, to heal and to feed, to raise the dead; in His suffering rejection and pain; in His dying and rising; in His departure; and in His sending the Spirit again to begin the cycle all over again in so many. Mary is the ultimate helper and cooperator in Jesus' work of redemption in the midst of the world. And so can we be, in a natural expression of our love.
Our new definition of reparation, #23 in our Constitutions, sums this up and calls us as Christians to live it. In this new celebration of the Incarnation today, and of the Birth tomorrow, we have a great opportunity to begin again our life in the Spirit with Mary and with Jesus. We are
thankful for this.
When and how do I let others, let God enter my life and have some control?
When and how do I respond to Christ's love for me?
When and how do I join Christ in loving God, and others?
When and how do I join Christ in His redemptive, reparative work in the world?
During this last rush before Christmas, be mindful in each thing you do for another that you do it with Christ as a way of loving.