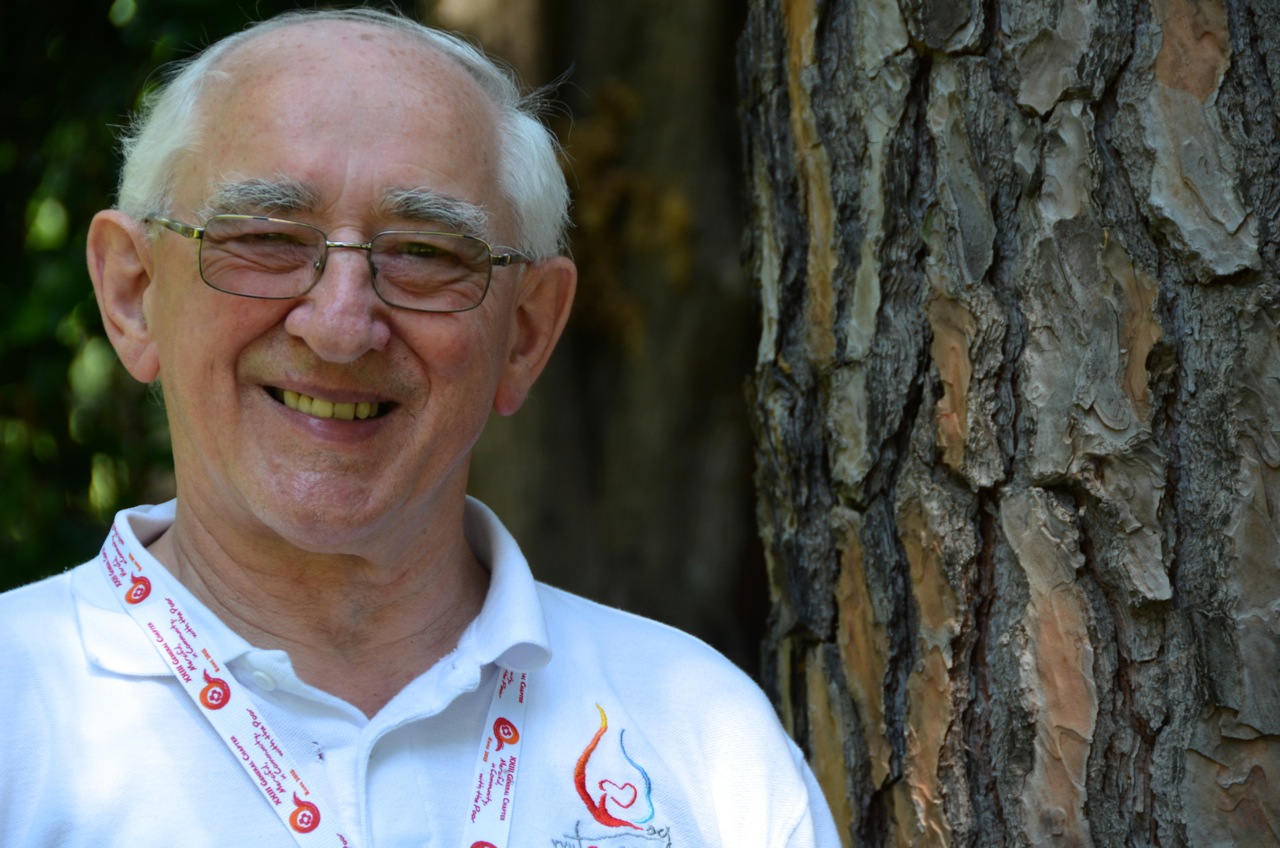 Much of the chapter's work on Thursday was in small groups. In the meeting hall there were only a few business items: information about the next day's visit with Pope Francis, approval of a statement from the chapter on the persecution of Christians, a presentation on the use of
DehonDocs
, and a look at the tenth anniversary website produced by "
Dein Reich Komme
," a publication of the German Province.
However, during one of the presentations participants were reminded of a historical moment in the congregation. This would most likely be the last General Chapter at which there would be a delegate from the Flemish Province (Belgium).
"I didn't even know if I would be here this time," said Fr. Lambert Croimans, the Flemish delegate, noting health concerns that limited his activities months earlier. He is pictured above.
Much of the discussion at the XXIII General Chapter has been about new initiatives –– young, rapidly growing missions and entities with personnel and financial needs.
The Flemish Province –– half of the Dutch-Flemish Confederation –– represents the other side of the coin.
Originally linked with Luxembourg, the Flemish became an independent province in 1960. It was known for its schools, pastoral ministry and social works. Fr. Lambert devoted much of his own life to education, and he continues to sit on the board of directors of a school founded by the Flemish SCJs.
The province also sent its men to the missions, including many who died in the 1964 Simba rebellion in Congo.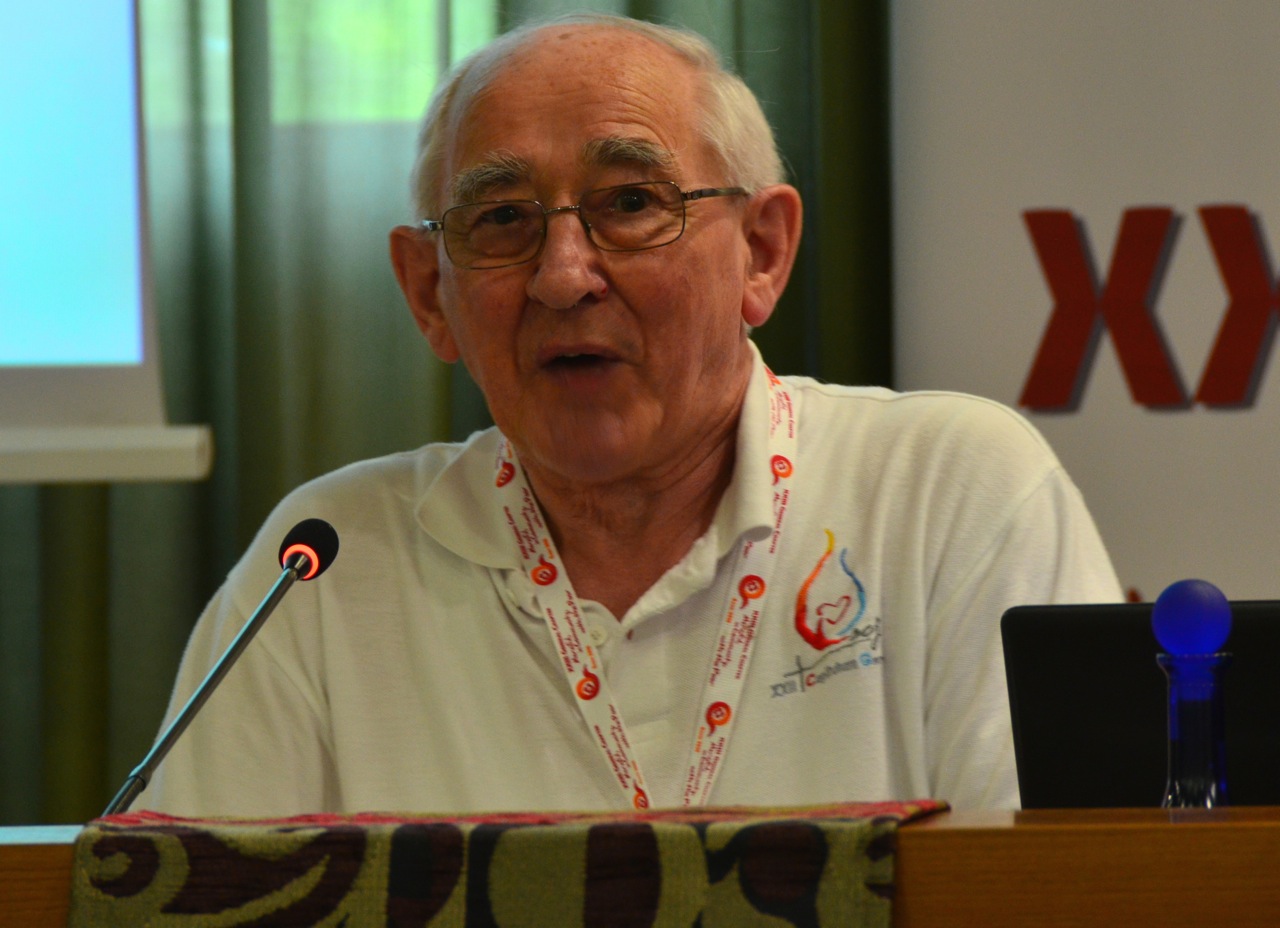 The Flemish have been a part of other mission efforts as well, including the congregation's start in India and Slovakia. For 30 years they have financially assisted the SCJs' Institut Maele Collège du Sacré-Cœur in Kisangani (DR Congo).
"The Congolese here at the chapter know of our work with the school; it is a connection for us," said Fr. Lambert.
The Flemish SCJs were also strong contributors to the Cameroon Province's church in Bafoussam.
But now the Dehonians' presence in Belgium is entering its twilight years. When the last General Chapter took place in 2009, there were 28 Flemish SCJs. "Since that time we have shrunk to half that size," said Fr. Lambert. "We are now only 14." During a single week in April of this year Flemish SCJs mourned the death of three of their members.
Speaking candidly, Fr. Lambert said that he was not enthusiastic about coming to this year's General Chapter. He wondered what impact he could have on the congregation.
But that changed when he was given the opportunity to speak to the chapter members. He only took a few minutes, but what he shared is what Fr. Lambert believes made his presence worthwhile.
"I wanted to make sure that the congregation knows who we are and what we have contributed," he said later.
"If a seed falls onto the earth and dies, it shall bring forth fruit," he continued. "Many fruits have sprung forth, the fruits of our presence in Flanders, Congo, India, Slovakia, Cameroon and elsewhere. May they in turn bring forth rich fruit in their future."
At the end of his presentation members of the General Chapter broke into applause. Both Fr. José Ornelas Carvalho, superior general, and Fr. Heiner Wilmer, superior general-elect, thanked Fr. Lambert for the dedication of the Flemish SCJs.
"We will accompany you in the years ahead," said Fr. Heiner. "We are grateful to you, our brothers."