With great joy, on January 20th we welcomed Fr. Heiner Wilmer, superior general, and Fr. Léopold Mfouakouet, who came to us as a clear sign of communion in mission.
They arrived to take part in the "jango" (traditional meeting) to learn more about the mission and to feel the embrace of God to the people of Angola. This closeness has been felt in a particular way in the welcoming of Br. Agostinho Paixão Caxito of the Dehonian Family.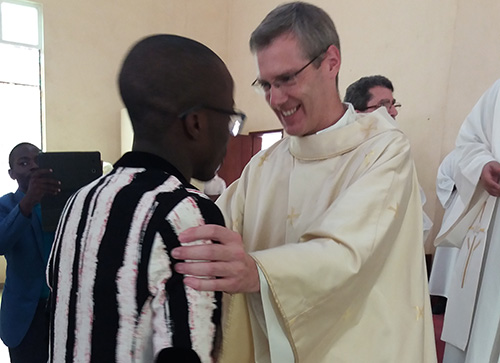 On January 21st he made his first profession, consecrating himself to God through the vows of chastity, poverty and obedience. Fr. General made two recommendations to him; first, to follow the example of Isaiah to not be afraid, and second, to always maintain the ability to learn from youth.
On January 23rd, after leaving the district community of Viana, the visitation moved to the city of Luena, where Fr. Jorge Alves (superior), Fr. Jorge Amaro (formator) and Dn. John Bartholomew live. Dn. John will be ordained a priest on February 5. The community of Luena was founded in 2010 for vocational discernment. This year there are 12 young men in formation. The big event of the day was a birthday party for Frs. Leopold (49) and Amaro (50). There were several moments for spirituality and fraternity.
On January 24th the focus shifted to the mission center dedicated to St. Margaret Mary Alacoque. It is a parish that lacks a bit of everything. However, a water supply has already been established for the community. Soon, a literacy program will begin for children, youth and adults.
A pre-enrollment list has more 2,500 names on it. In dialogue with the general we spoke of the need to find, together, forms of communion and mission, to be more attentive to the signs of the times and the new realities of the area. Reference was made to the need to build open communities and be in dialogue with others to allow for a truly shared mission.
We thank God for the gift of these brothers who help to renew the spirit of the mission. May their visit be enjoyable!