Card. Eusébio Oscar Scheid was born on December 8, 1932 and was 88 years old. He took his first vows on February 2, 1954, was ordained priest on July 3, 1960, ordained bishop on May 1, 1981 and was created cardinal on October 21, 2003.
He was currently living in São José dos Campos (Brazil). He belonged to the Province BSP.
Venite ad me, omnes qui laboratis, et onerati estis: et ego reficiam vos. (Mt 11,28)
---
Telegram from the Holy Father
EMMO E REVMO
DOM ORANI JOÃO TEMPESTA, O. CIST.
ARCEBISPO DE SÃO SEBASTIÃO DO RIO DE JANEIRO
RECEBI COM PROFUNDO PESAR A NOTÍCIA DO FALECIMENTO DO CARDEAL EUSÉBIO OSCAR SCHEID E DESEJO ASSEGURAR-LHE NESTE MOMENTO DE LUTO A MINHA SOLIDARIEDADE ORANTE COM TODOS OS FIÉIS QUE NELE ENCONTRARAM UM ZELOSO PASTOR. SEU LEMA EPISCOPAL, "DEUS É BOM", RECORDAVA-NOS A BONDADE DE DEUS COM A SUA IGREJA, SENDO ESTA RECORDAÇÃO VERDADEIRAMENTE CONSOLADORA QUANDO FAZEMOS MEMÓRIA DO QUERIDO DOM EUSÉBIO QUE COM TANTO DENODO SERVIU O POVO DE DEUS, TENDO SIDO O PRIMEIRO BISPO DE SÃO JOSÉ DOS CAMPOS E PASTOREADO COM IGUAL ESMERO A ARQUIDIOCESE DE FLORIANÓPOLIS E A SÉ METROPOLITANA DE SÃO SEBASTIÃO DO RIO DE JANEIRO. AO MESMO TEMPO QUE AGRADEÇO AO ALTÍSSIMO POR TER DADO À IGREJA DO BRASIL TÃO GENEROSO PASTOR, ELEVO FERVOROSAS PRECES PARA QUE O ACOLHA NA SUA FELICIDADE ETERNA E CONSOLE PELA ESPERANÇA NA RESSURREIÇÃO A TODOS QUANTOS LAMENTAM A PERDA DO SEU AMADO PASTOR, ENVIANDO-LHES, COMO PENHOR DE RECONFORTANTES FAVORES CELESTIAIS, A BÊNÇÃO APOSTÓLICA.
FRANCISCUS PP.
---
Cardinal Eusébio was born in Luzerna, Santa Catarina Brazil on December 8, 1932. He attended elementary and high school at the Priests of the Sacred Heart of Jesus Seminary in Corupá, SC. He became a member of the Congregation of the Priests of the Sacred Heart of Jesus (Dehonians) with his Religious Profession on February 2, 1954. He studied Philosophy in Brusque, SC, (1954) and at the Pontifical Gregorian University, in Rome, Italy (1955-1957), where he also studied theology (1957-1964). He was ordained a priest on July 3, 1960, in Rome. He continued his postgraduate studies and received both a Master's degree and Doctorate in Christology. On February 11, 1981 he was appointed as the first bishop of the Diocese of São José dos Campos (SP), where his episcopal ordination took place on May 1, 1981.
On January 23, 1991 he was transferred to the Archdiocese of Florianópolis. In 2001 he was transferred to the Archdiocese of Rio de Janeiro. He became Cardinal on October 21, 2003, when Pope John Paul II presided over the Ordinary Public Consistory for the creation of 30 new Cardinals. He became Archbishop Emeritus in April 2009 and resided in São José dos Campos.
Before being ordained bishop, Cardinal Scheid service included Cristo Rei Seminary and the Regional Seminary of the Northeast, Recife, PE (1964-1965), Professor of Dogmatic Theology and Liturgy at the Theological Institute of Taubaté-SP (1966-1981) and Aparecida, Coordinator of Catechesis in Taubaté-SP (1970-1974), Director of the Faculty of Theology in Taubaté-SP, and  Invited professor of Religious Culture (1966-1968) at PUC, São Paulo-SP.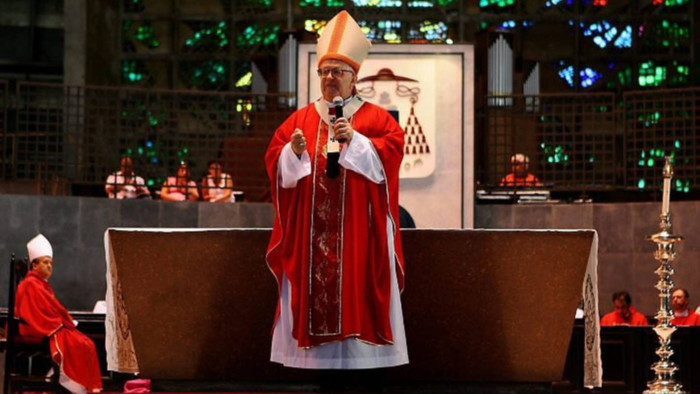 As bishop, he performed the following services: Bishop of São José dos Campos-SP (1981-1991); Archbishop of Florianópolis (1991-2001); President of Regional South 4 – CNBB (1994-1998); Member of the CNBB Episcopal Doctrine Commission for 12 years; Ordinary for the faithful of the Eastern Rite without their own ordinary (2001); and Responsible for Family Pastoral in Southern Region 1 for 8 years.
At the Vatican he was Counselor for the Pontifical Commission for Latin America, on November 25, 2002; Member of the Pontifical Council for Social Communication, on November 29, 2003; Papal Legate, of S. Santidade Bento XVI, and the XV National Eucharistic Congress in Florianópolis, SC, from May 18 to 21, 2006. At CNBB, he was a member of the Permanent Council; Member of the Episcopal Commission for the National Sanctuary of Nossa Senhora Aparecida; and President of Eastern Region 1 – CNBB (2003-2007).
Cardinal Scheid participated in the conclave that elected Pope Benedict XVI.
He was also a member of the Council of Cardinals to study the Holy See's organizational and economic problems on January 17, 2007.
Cardinal Eusébio published the following books: Laureate thesis on the Christology of Ubertino da Casale in its historical context; Preparation for Marriage and Family Life; Introduction to Family Pastoral Care; and Ministry of Hospitality.
Cardinal Eusébio Oscar Scheid, archbishop emeritus of Rio de Janeiro and first bishop of the Diocese of São José dos Campos, celebrated his Diamond Jubilee of Presbyteral Ordination on July 3, 2020.
We thank God for the life of Cardinal Eusébio and for his 60 years of priestly ministry, with 40 years dedicated to the episcopate.
Font: Diocese of São José dos Campos