21 December 2018
21 Dec 2018
Celebration of the 150th anniversary of Father Dehon's ordination
---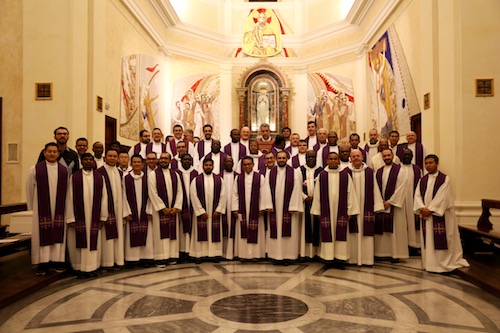 On December 19, 2018, the community of the Generalate house in Rome celebrated the 150th anniversary of the priestly ordination of our founder, Fr. Leo John Dehon, and his first Mass. The place was at the Pontifical French Seminary of Saint Claire, where the Founder carried out his studies in preparation for the priesthood. We were welcomed at 4:00 pm at the entrance of the building by the rector of the seminary, Fr. Vincent Siret of the Society of Saint John-Mary Vianney. He guided us through the inner courtyard, which at its center had a statue of the Sacred Heart of Jesus, then toward the refectory, embellished in 2011 by the mosaics of the Jesuit Fr. Rupinik. We received a presentation about the seminary, with historical references, and then went to the "Sala degli Esercizi", a place of spiritual meetings and gatherings of the seminary community. During World War II the place received Jewish people, protecting them from persecution (it is considered a "casa della vita" in Rome).
At 4:30 pm, Fr. Stefan Tertunte, director of the Dehon Study Center (Centro Studi Dehoniani), gave a conference on "Dehon and the Priesthood". Fr. Tertunte reminded us of the value of the Holy Clare Seminary for the priestly formation of Fr. Dehon and of the model of priesthood he lived and proposed. Starting from the letters of Dehon to his parents and friends near the time of his ordination, and his memoirs, particularly in Notes on the Histoire de ma Vie, Fr. Dehon's writings about priesthood help us understand how to live as religious Dehonian priests today.
At 5:00 pm, we went to the Church of Saint Claire, the chapel of the French Seminary, also decorated with splendid works of sacred art (especially by Fr. Rupinik), for the celebration of the Eucharist. Although recently restored, it is the same place where, 150 years ago, Fr. Dehon presided at the first fruits of his presbyteral ministry. Our Superior General, Fr. Carlos Luís Suarez Cordoniu, presided at the concelebration and emphasized the importance of the moment for the life of our religious community and of the Congregation. After Mass, at about 6:00 pm, we greeted the rector of the French Seminary, who offered us hospitality, and we returned to the Generalate, where we shared fraternity with a festive dinner. In the memory of the 150th anniversary of the ordination of our Founder, we entrust the entire Congregation to his intercession and pray for his beatification.
Link to the Photos