---
The General Government invited the Major Superiors of 19 Dehonian entities to attend a colloquium. The gathering is taking place at the Generalate in Rome November 12-25.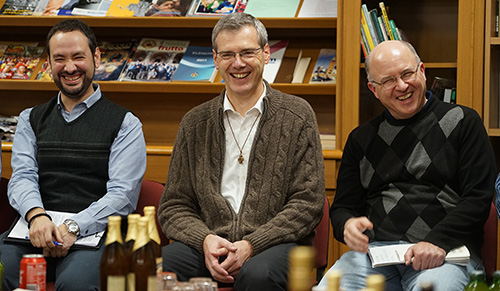 The program includes five parts, beginning with the spiritual and human dimension of authority, and the charismatic dimension. Human relationships will be spoken about as the basis for fruitful service in leadership and with the Church. The final part of the meeting will focus on technical aspects of leadership such as collaboration between the entities and the general government.
The gathering will be guided not only by invited specialists, but by senior superiors themselves who will present their ways of addressing challenges in their service. There will be an opportunity to share good practices that exist in entities, such as social animation, time management, and the experience of implementing protocols on sexual abuse.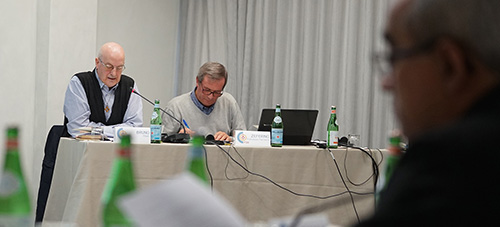 The morning of the first working day was done as a retreat preached by Fr. Bruno Pilati, SCJ, superior of the International College in Rome. During the retreat he focused on biblical texts connected not only to the service of authority, as John was asked by Jesus after the Resurrection, but above all, in regards to an intimate relationship with Jesus, about knowing how to love. "They told me that a small flame can generate a great fire and I believe it! They told me that the world is dying from a lack of love but I do not want to believe it!"
The afternoon was led by the Vicar General, Fr. Carlos Enrique Caamano Martin, SCJ. Through different dynamics and group work he facilitated the sharing of positive experiences and reoccurring difficulties. The way to deal with each situation must be individualized, which sometimes takes extra time. Among the difficulties and challenges the superiors said they had experienced were insufficient dialogue, selfishness, lack of availability and cooperation, a weak sense of belonging and limited time needed to find the balance between work and spiritual development, as well as personal formation.
November 14 is devoted to reflection on the spiritual dimension of the service of authority. Fr. Maurizio Bevilacqua, CMF, former provincial superior of the Claretians, presents his experience based on the idea of authority that comes from St. Francis. It is necessary to create "a service for the growth of fraternity."