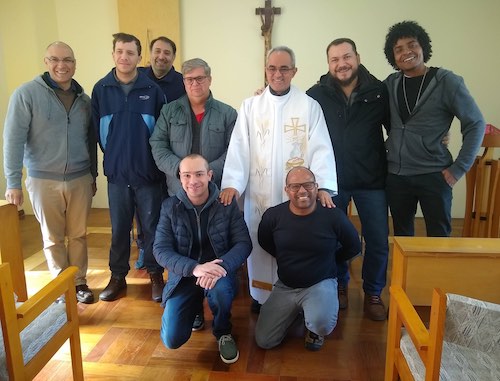 Br. Diego Diaz, SCJ, was a presenter at the July, 2019 meeting of SCJ religious brothers in Campos do Jordão, São Paulo, Brazil. Originally from Argentina, Br. Diego is now a member of the Mississippi community (US Province), where he ministers with Sacred Heart Southern Missions. Br. Diego's theme was "Accompaniment Based in the Heart of Jesus." Taking part in the conference were religious brothers from Brazil and Chile.
Br. Diego wrote that this third meeting of religious brothers in Latin America was born from the initiative of CLAR (the Latin American Conference of Religious) to promote spaces for religious brothers to be together. The first meeting was held in Buenos Aires in 2015 with the theme "Men, Artisans of Mercy."
"There we reflected on the General Conference of Brothers held in Hales Corners, WI, and the names of the first brothers who were with Fr. Dehon at the beginning of the foundation,' wrote Br. Diego. The group meet again in Santiago, Chile, in 2017, focusing on the call "to share."
During last week's gathering, participants "shared our experiences of being brothers, as brothers," continued Br. Diego. They created a map that marked the many places that brothers are present. Together, the group went to Our Lady of Aparecida and "were amazed by the great work that the SCJs carry out at the San Judas Tadeo Institute. In these days we shared and understood that our congregation is alive, reaching out to the peripheries.
"We want to share with the whole congregation the joy of our vocation as brothers and continue walking as SCJs, as Dehonians, faithful to our spirit of prophetic witness."
Click on either Spanish or English to read the concluding statement of conference.
"It was a meeting filled with the Dehonian spirit," said Br. Diego. The next meeting of Dehonian brothers is tentatively scheduled for August, 2021, in the Brazil-Recife Province.