---
The Final Vows Preparation Program for the Asian Zone is held every year in a different place. This year the course is being hosted by the Philippine Region. It takes place at the Dehon House in Manila from April 12 to May 9, 2014. Each of the four weeks of the program is guided by one facilitator coming from a different entity.
It started with the theme "Religious Vows: Spirituality and Dehonian dimension," and was led by Fr. Petrus Santoso, scj from the Indonesian Province. The theme of the second week was "Religious Vows, Psychological Growth and Maturity. Person and Community," and was facilitated by Brother Javier Lopez Martinez, scj from the Spanish Province. On the third week Fr. Patrick Gutib from the Philippine region and Fr. James McTavish from the Verbum Dei Congregation, are tackling at the moment the theme "In the Spirit of Vatican II and other Church's Documents: The Apostolic Dimension of the Religious Vows."  The course will end with the Spiritual Retreat on the fourth week and it will conducted by Fr. Rino Venturin, scj from the Vietnam District.
All in all, there are 13 (thirteen) participants of this course; 10 (ten) scholastics from Indonesia, 1 (one) from the Philippine Region, and 2 (two) from Vietnam District. Beside the Program's activities, Lectures, Reflections, Workshops, and Synthesis, the participants share the community life and some schedules of the Dehon House Theologate community, such as: the Holy Eucharist, Adoration, meals, tasking, sports and recreation. All this give to everybody the opportunity to feel at home together in a SCJ Asian wide community during this time.
Forgiveness and Religious Life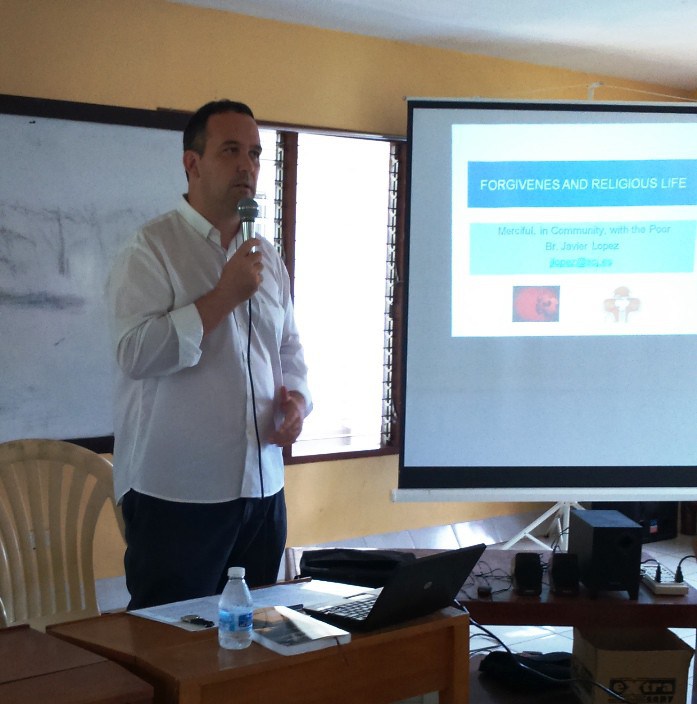 Br. Javier Lopez, scj, from the Spanish Province, a psychologist and professor at San Pablo University in Madrid, also a member of the SCJ Theological Commission, was one of the main facilitators  in the Preparation for Final Vows organized by the SCJ Asian Zone and held in the Philippines. Using this opportunity, the Philippine Region invited him to share his ideas from the psychological point of view on the "Forgiveness and Religious Life," during the monthly meeting on April 27, 2015, held at the  Sacred Heart Formation House in Cagayan de Oro City. The topic is very much related to the motto of the XXIII General Chapter of the Congregation "Merciful, in the Community, with the Poor"  and was a good occasion to reflect on God's unconditional Love for all and the need of forgiveness among the members in each community. The participants found this guided reflection very practical, insightful and helpful.