---
On Saturday April 27, 2019, a day after the provincial assembly of Cameroon, seven deacons were ordained priests at Saint Joseph's Cathedral of Bafoussam by Mgr Dieudonné Watio, Bishop of Bafoussam (West region). Among these deacons were two diocesans and five SCJs namely, Prosper Nyuydze, Armel Djatche, Parfait Mongo, Salomon Edinguele and Cyrille Olinga.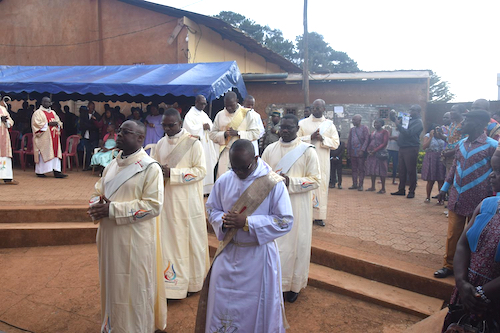 The mass, which started at 9a.m, was celebrated by Mgr. Dieudonné Watio, Bishop of Bafoussam, accompanied by Mgr. Charles Vandame, Archbishop emeritus of Ndjamena (Tchad) and concelebrated by many other priests including SCJs and diocesans. We acknowledged the presence of Rev. Fr. Leopold Mfouakouet, general councilor who was still in Cameroon after having participated to the provincial assembly.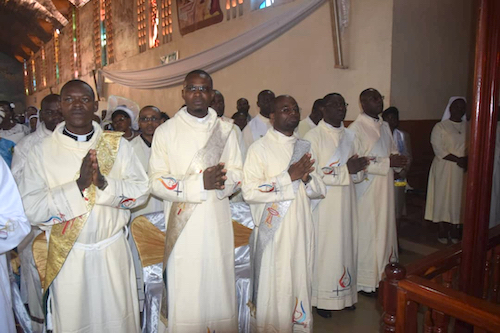 Mgr. Dieudonné Watio during his homily invited the deacons to be true witnesses of the risen Christ in their ministry and to value the treasure of the priesthood that they bear in their life. The Bishop expressed his fatherly congratulations to the newly ordained priests by offering to them their first chasubles. 
Christians coming from various dioceses crowded the Saint Joseph's Cathedral of Bafoussam and its square. After the Eucharistic celebration, which ended at 1p.m, each newly ordained priest offered a lunch party in an adequate area to celebrate with his family and guests.