19 October 2020
19 Oct 2020
Fr. Charles Aimé Koudjou, Appointed General Councilor in Rome
Dear Father, we welcome you with great joy for your appointment to the general curia of our congregation. How did you personally welcome it?
I welcomed my appointment with surprise and astonishment. Surprise because I was far from imaging such a thing, and astonishment that it relates to me personally. For a long time, I remained "speechless" as the English say, without words. Not being able to fully express the feelings that I was feeling at the moment, I found myself gradually invaded by a kind of fear, of awe. Even today, I have to admit that it is frightening, although Father General reassured me that it is not a job that is entrusted to me, but instead a call to participate in the work of a team, to share with others, in humility and availability, to be a close to others, to be there for them as they are there for me, for us.
A hard blow or a great joy for the scholasticate of Bamenda, where you have been rector for 5 years?
This is a difficult question and one for which, from my point of view I can't tell you the whole truth. From my point of view, it is a hard blow. Because we are in the middle of the academic year. The last confrere returned from holidays just two days ago and we had already started to review our community project for this new academic year, set some objectives and started to identify some challenges. I have no doubt that they will be continued and certainly achieved even better, but this certainty does not take away from my concern. When one has loved one's community, no matter how long one has spent there (6 months, 1 year, 5 years, 10 years) one always wants the best for it, hence the "worry" the refusal of tranquility as long as it is not fully developed.
As General Councilor you are called to leave this house of formation in Bamenda to join the General Curia in Rome. Do you know what awaits you there? Do you already have some ideas that you will take with you to Rome? 
I must say that I do not know what awaits me. But if there is one certainty, it is that I will certainly learn a lot. I am careful not to know in advance, I will learn from others and with others. Ideas to take to Rome? No, none. I'm going like a blank sheet of paper and at the end of my stay we'll see if there is anything written done.
You also have a lot of international experience and in training … what have you learned?
Thank you, it's very very flattering, but above all, let's not exaggerate. During my years of study I had the chance to visit some of the entities of the congregation, I still carry unforgettable memories in my heart: the welcomeness of the confreres, their availability, their generosity, their commitment in their different missions. (But we are still a long way from talking about a great experience). Everywhere I went, even for a brief visit, the confreres edified me a lot, especially because of their differences. Speaking of formation, I think I learned something essential for me: to form young people is to allow oneself to be formed by young people. Perhaps, to avoid shocking some sensitive people, it would be better if I said that training is "self-training," even better is "mutual training".
I can still remember my early years, when freshly returning from preparation, full of knowledge and theories well assimilated, I thought it was enough to apply time. Oh no, I didn't. Thank God, I quickly learned that all those years of preparation were only instruments for myself, to help me descend to the level of a young person, to sit next to him, close to him, so that he could talk to me about what he wants, what he feels, and above all how he intends to arrange all the bubbling that seizes him. Admiring with him what he is, and what he does with what he is, suggesting paths that suit the objective he has set for himself, but also take the opportunity to sometimes correct his own paths, this is for me the training or what i have learned during these years in training.
In his last letter, the Superior General establishes a strong link between the recent encyclical of Pope Francis, "Fratelli Tutti" and Dehonian life. What do you see as the main challenges of Fratelli Tutti?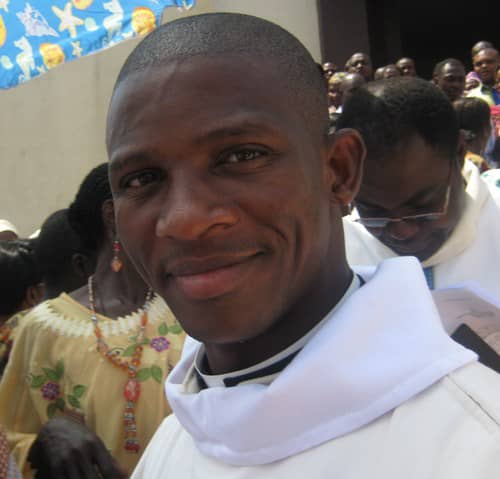 I am only halfway through reading this new encyclical of Pope Francis, Fratelli Tutti. I hope to find some peace and quiet in the next few days to complete this reading. From what I have already retained, the Holy Father, as he said himself, wants to wake us up to "universal fraternity" that fraternity goes beyond the limits of geography, time, and space. It is a fraternity without limits, which brings us back to the essence of our faith: the unconditional love of neighbor, of the one who is close to me, not only by a proximity in space and time, not only a linguistic, religious, cultural, ethnic, tribal, clan proximity… but more than that, the one who is close to me in humanity, through our common humanity. The example he gives of St. Francis visiting the Sultan of Egypt is astounding. The sacrifices, the pains of the journey, and much more in the context of the Crusades. When we know that the Crusades had among its mission, and certainly not the least, that of liberating Christanity, and in a more concrete wa, the "Holy Land" of the Muslim invasion, this gives us food for that. St. Francis seems to be telling us that even the supposed "enemy" is a brother, a brother in humanity. And, his journey, his long pilgrimage to Egypt, while expressing his love for this brother, has all the making of a reparation process. Saint Francis loves and repairs universally. He is without any other word, a "prophet of love and servant of reconciliation." If I were allowed an anachronism, I would say that he is a Dehonian, a disciple of Father Dehon. This says everything about the link between this new encyclical and our Dehonian life.
Speaking of the issues at hand, Father General underlined them sufficiently in his last letter: to place fraternity and social friend at the center of our lives, to live a universal love in the sense we have just described, without limits, a love which "transcends distance by origin, nationality, color, or religion" and by bring it more to us, a love which goes beyond our tribal, ethnic, or clan boundaries, without losing sight of the fact that in each one of us there is "something of a wounded man, something of a thief, something of those who pass by and something of the Good Samaritan", one of the major challenges for us Dehonians is to recognize our vulnerability, our fragility, mine as well as others are waiting for me to help, to provide care. In short, the Pope invites  us to take care of each other.