The last International Meeting of Dehonian Educators, held in Valencia, Spain, in 2014, called for the SCJ Congregation to develop a network of Dehonian schools. To advance the goals set forth in Valencia, a small group of the educators who participated in that gathering met in Rome August 31 – September 1.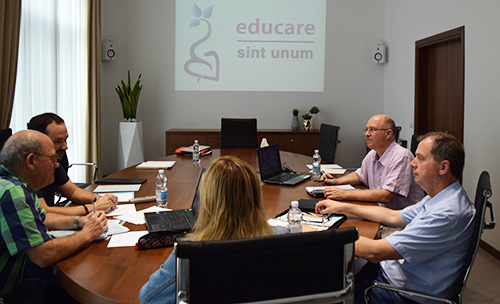 SCJ General Curia members Frs. Stephen Huffstetter and Pedro Iglesias Curto welcomed Mr. Franz-Josef Hanneken, (Gymnasium Leoninum, Handrup – Germany), Mrs. Bridget Martin, (Sacred Heart School Southaven, Mississippi – USA) and Fr. Luis Jesús Chocarro SCJ (Colegio y Seminario Sagrado Corazón, Venta de Baños – Spain).
Br. Roberto Garcia Murciego SCJ, who helped organize the Valencia meeting, provided the group with an historical background. Dehonian educators began meeting on an international level in 2001, leading up to a General Conference on the theme of Dehonian education in Neustadt, Germany, in 2013. It was in Neustadt that the idea of a network was first proposed.
According to Mr. Hanneken: "The Neustadt Conference spoke of the importance of developing a Dehonian pedagogy to accompany students, and to have a common pastoral plan for all our schools. Dehonian education needs a strong and good educational philosophy as it strives for holistic education, respecting the individual and their complete development as a person."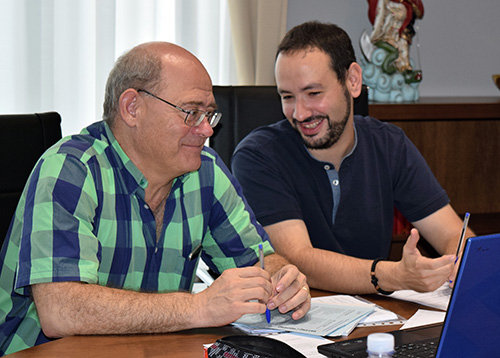 The Educare/Sint Unum meeting in Valencia further defined the purpose of a network, specifically as a platform on the Internet. Its main objectives are to allow the schools to get to know one another, to form Dehonian identity within the schools and to share resources, knowledge and best practices. It would promote joint work on common topics. Meeting participants suggested a structure of individual schools united through coordinators in geographic/continental areas and coordinated through the General Curia.
Mrs. Bridget Martin commented: "If we can establish such a network, the opportunities for learning skills and sharing experiences are endless in what students can gain through the exchanges. The challenge is how to pair up, and how to effectively communicate."
Fr. Heiner Wilmer, Superior General, who worked in educational ministry for many years himself, strongly supported these goals when he addressed the group. Fr. Wilmer, highlighted that "education is key, crucial and important in the life of the Congregation. Fr. Yves Ledure always reminded us that the Congregation was founded beneath the roof of a school."
Fr. Luis added: "I also want to highlight the importance of the educational field within the Congregation to fulfill our mission of evangelization. We want to be able to create and give life to the Committee formed to advise and help the General Council in the work of coordinating and encouraging everything related to the field of education. May God help us and give us strength and wisdom to carry out this mission."
Mr. Hanneken shared some key aspects of Fr. Dehon's educational approach:
• Fully incarnational: man is a being with body and soul, and education aims to develop both.
• Human-friendly: the open Heart of Jesus is an expression of a basic biblical love relationship.
• Personal: within a supportive community, the view of the individual is to be respected and nurtured.
• Historical-social approach: Father Dehon is one of the pioneers of a Social Doctrine that wants to act not only at the level of active Caritas, but to address structural issues to form a just society.
The next step the group decided was to create the "Educare Advisory Committee" and expand the group by adding members from other geographical areas of the Congregation. A video conference is planned for early December, and another face-to-face meeting is scheduled for Rome in February. Committee members will be contacting current and former Dehonian schools to update contact information. By September 2018, there are hopes to have continental representatives in place, and begin organizing another global encounter to advance the goals of Dehonian education.

Mrs. Bridget Martin concluded: "It has been very exciting working with the Committee to connect all of our schools throughout the world.  It is deeply inspiring to learn about the Dehonian charism around the world.  While we are all different and have different challenges, we all have a common goal: to care for one another."