05 February 2018
05 Feb 2018
Internationality is the future of the US Province
---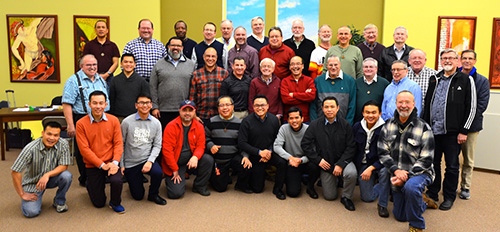 "Our Future: Together in Community and Ministry" was the theme of the 2018 US Provincial Conference held January 30 – February 1 at the Provincial Conference Center in Hales Corners, WI.
Every SCJ working in or preparing for full-time ministry in the US Province, as well as the novices, were invited. Called for only three months earlier, the conference had a 100% attendance rate. In the midst of busy ministry and school schedules, each SCJ in full-time, active ministry, was present.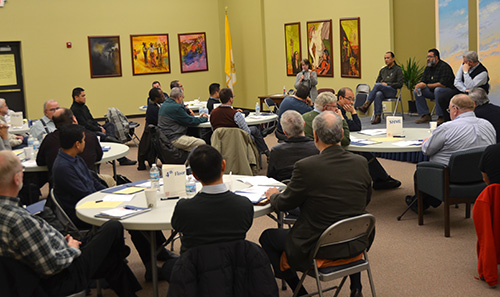 "This is a critical time for our province," said Fr. Ed Kilianski, SCJ, in his opening comments. During his two-plus years as provincial superior he has seen tremendous change in the US Province, and he anticipates much more.
As each man stood up and introduced himself, one of the most significant changes was quickly evident: the province's growing internationality. Those in active ministry, especially younger SCJs, are increasingly from entities outside of the United States. Joining native-born Americans at the tables were men from Indonesia, Vietnam, Poland, Cameroon, Argentina, Colombia, and Canada.
"Local communities and ministries are becoming more multicultural; this will increase in the future," said Fr. Ed. "What can the province do to better facilitate this? How can SCJs from other cultures be better prepared for community life and ministry in the US Province, and how can current members better welcome their international confreres?"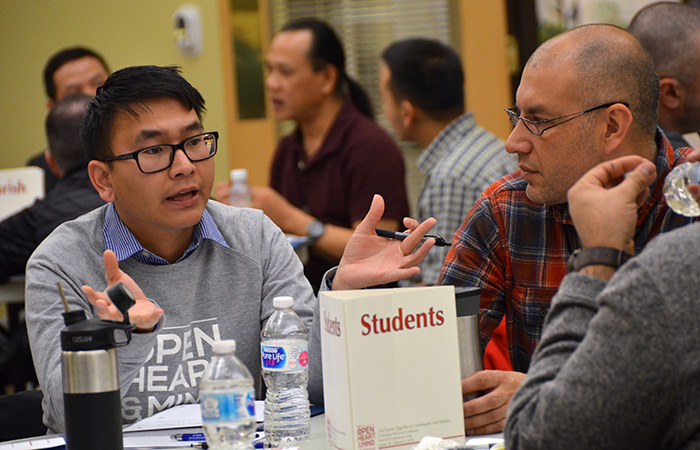 Although multiculturalism emerged as a significant focus of the conference, it was not forefront in the minds of provincial councilors when they called for the gathering at their November 7, 2017, meeting. Then, the primary issue was the well-being of those in full-time ministry. With fewer personnel and increasing ministerial possibilities, councilors were concerned about burn-out among the membership. "In some cases, a person can become so overwhelmed that it can lead to the loss of his vocation," said Fr. Ed.
Councilors also expressed the need to ensure that personnel are appropriately prepared for internal and external ministries.

"How do we flourish in ministry and community?" said Fr. Duy Nguyen, SCJ, provincial councilor. Following the conference's opening prayer, he and other members of the council shared their vision for the gathering. "Can we find ways to flourish together? How do we live well together? How do we work well together?"
As the conference evolved it became clear that the first step in living and working well together is for SCJs to simply know one another and the province better. Doing so builds a better community experience, a better Dehonian experience. And that's when "internationality" took center stage.
Mary Gorski