---
"Through the priestly ordination, our Lord continues His works of salvation," said the Archbishop of Palembang, Mgr. Aloysius Sudarso, SCJ. Amid the declining numbers of vocations to religious and priestly life around the world, the Dehonian Indonesian Province is grateful to celebrate the abundant blessings of vocations to the priesthood and religious life.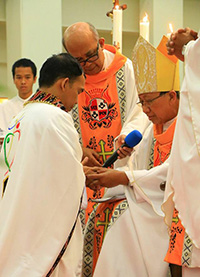 On Wednesday, February 07, 2108, at St. Francis de Sales Parish in Palembang, Archbishop Sudarso ordained five courageous young Dehonian priests. They chose the motto: "Do not be afraid, I am with you" (Isa. 41:10). The five young men from different ethnic and cultural backgrounds have been united in the love of the Sacred Heart of Jesus and became Dehonian Priests. "Those who are weak as human beings, have been given the strength to continue the work of God by offering themselves as His priests," said Mgr. Aloysius Sudarso.
"These five new Dehonian priests are ready for their ministries, the duties to serve the Church around the world and to participate in the Dehonian mission in other parts of the world," said Fr. Alexander Sapto Dwi Handoko, SCJ, Indonesian provincial superior.
The five new priests are Fr. Hendrikus Hendrik Ardianto, SCJ, who will work as a missionary in the United States; Fr. Andreas Sudi Novianto, SCJ, who will go to Rome to join the formation course; Fr. Emilianus Etrodismas, SCJ, who will work at St. Maria Parish – Tugumulyo as an associate pastor; Fr. Antonius Tugiyatno, SCJ, who will work as an associate pastor in the St. Maria Biak Parish – Papua; and Fr. Bonifasius Juspani Lase, SCJ, who will be an associate pastor at St. Peter SP3 Parish – Timika Papua.
This joyful celebration of the ordination was led by Bishop Aloysius Sudarso, together with Fr. Sapta and Fr. Antonius Yuswita, SCJ, the parish priest of St. Francis de Sales. About 125 priests and more than 1,500 people were present to give their support and prayers for those new Dehonian priests.
"Do not be afraid, I am with you," is the quotation from the book of the prophet Isaiah and it became the motto of these new priests. In his reflection, Fr. Novianto said that he finds his strength in this passage of scripture. He believes that the Sacred Heart of Jesus always accompanies his journey of a religious and priestly vocation.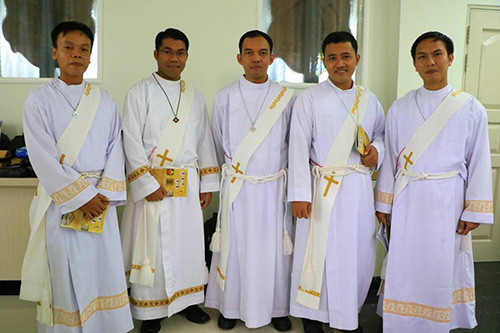 After the ordination, on the following morning, Thursday, 08 February, 2018, the Indonesian Dehonians gathered to hold a Provincial assembly. The central theme of this assembly is to understand the Batak culture. Given that the majority of Indonesian Dehonians are from the Javanese tribe, it is essential for us to learn different and unique characteristics of the Batak people before we proclaim the Good News for them. It is crucial that our apostolic works become more open to and more concretely touch the culture of the people. "Do not be afraid; I am with you!"
May all Dehonians be courageous in proclaiming the work of God's love in the midst of the world.