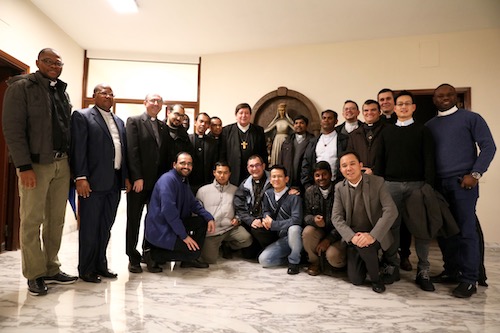 Last December 6, at the headquarters of the Congregation for Institutes of Consecrated Life and the Societies of Apostolic Life, the group in the Course for Dehonian Formators in Rome, accompanied by its coordinator, Fr. Zeferino Policarpo, and the general councilor, Artur Sanecki, had a private meeting with Cardinal João Braz de Aviz, prefect of the same Congregation.
With simplicity and joy, the Cardinal kindly welcomed each of the participants. Before starting the meeting, he recognized the initiative and the request of the Dehonians for this meeting and spoke briefly on the importance of formation in the context of Religious Life.
 In the first part of the meeting, His Eminence briefly presented the structure and work of the Congregation itself and the reality of Consecrated Life in the world. Quoting the documents Lumen Gentiumand Perfectae Caritatishe said that Consecrated Life is part of the people of God and those within are called to walk along with the people. We must therefore return to discipleship and follow Jesus as the path of life: with the head, the heart and the hand, as Pope Francis teaches. And we must also take from our founder what is essential.
 Speaking of the future of Religious Life, he cited from the document "For new wine, new wineskins" and described the four "new wineskins" conceived together with the Pope: The formation of the disciples of Jesus; obedience and authority; the relationship between men and women; economy and Providence. The Cardinal then opened the floor for questions from the formators.
 At the end, he gave his blessing to the group of Dehonian Formators, adding a final piece of advice to all: religious must listen more to the people of God, talk more about their lives and witness the works of the Lord, that is, telling their story with Jesus and letting oneself "work".