From September 20-23, 2017, Fr. Heiner Wilmer, SCJ , superior general, accompanied by Fr. Artur Sanecki, SCJ, general councilor, conducted a canonical visitation of the Finnish Dehonian District. Our guests spent their first day in Turku, where Fr. Peter Gębara, SCJ, the superior of the District, serves as a parish priest.
The rest of the time they were with our community in Helsinki, which is entrusted with the care St. Mary's parish. Our confreres from Tampere, the third parish, in which the members of the Finnish District serve, arrived in Helsinki for the meeting of the whole District with Fr. General and his counselor.
During this visitation each member of the District met personally with the superior general and the general councilor.There are currently nine members in the Finnish District – seven are Poles and two are Filipino.
A meeting of all the members of the Finnish District with our guests concluded the visitation. The main topic of our discussions (and among Fr. Heiner Wilmer's recommendations) was the need to give our mission in Finland  more Dehonian characteristics, possibly by embarking upon new pastoral initiatives.
On Friday, September 22, on the day of the commemoration of the Blessed Juan Maria de la Cruz, Bishop Temu Sippo, SCJ, celebrated a Thanksgiving Mass for the 110 years of our presence in Finland.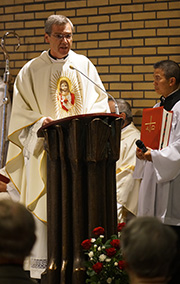 In his homily, Fr. Wilmer encouraged us to continue our mission in Finland with dedication and joy drawn from our Dehonian charism. He recalled that Fr. Dehon visited Finland in 1907 and soon after decided to send priests there. Because of that, said Fr. General, our mission in Finland is truly unique, like a precious jewel, which we as a Congregation treasure.
The Mass was well attended by Lay Dehonians and parishioners, and it was followed by fellowship in the parish hall. Seeing Catholics from many racial and ethnic backgrounds once more reminded us that our Catholic community in Finland is truly international – a visible sign of the universality of the Catholic Church.
Fr. Zenon Strykowski SCJ