---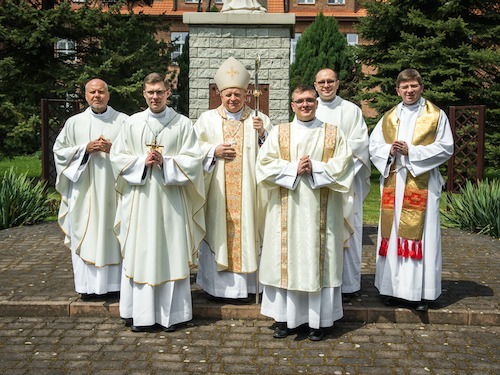 Mass of ordination to the diaconate and the presbyterate (May 16, 2020) took place in unusual circumstances. The priests and the brothers of Dehonian Congregation gathered in the parish church in Stadniki with bishop Józef Wróbel SCJ, who presided over the solemn liturgy. According to the sanitary restrictions, the families of Vitali and Gennady from Belarus, couldn't join the celebration with their sons.
Bishop Józef Wróbel SCJ drew the inspiration for his homily from the dialogue of Jesus with Peter described in the last chapter of the Gospel according to St. John (J 21, 15-19). This triple question "Do you love me?" was the subject of the bishop's dialogue with the candidates to ordination. "Do you resolve, with the help of the Holy Spirit, to discharge without fail the office of Priesthood in the presbyterial rank?
Do you resolve to exercise the ministry of the word worthily and wisely, preaching the Gospel and teaching the Catholic faith? Do you resolve to celebrate faithfully and reverently the mysteries of Christ, especially the Sacrifice of the Eucharist? Do you resolve to be united more closely every day to Christ the High Priest, who offered himself for us to the Father as a pure Sacrifice?
All these questions come down to one, most important question: 'Do you love me?' If you love, believe in your vocation. You believe that Jesus called you and still calls you" – added Bishop Wróbel.
After the homily Bishop Józef Wróbel SCJ, former rector of our seminary in Stadniki, and now the auxiliary bishop of the Archdiocese of Lublin, ordained Gennady Launikovich as deacon and Vitali Ventskevich to priesthood.
The next day (May 17, 2020), Fr. Vitalij, surrounded by the dehonian seminary community, presided for the first time at the Holy Mass in Stadnik's church. Att the end he gave the faithful a special blessing.
Łukasz Ogórek, scj & Łukasz Grzejda, scj