---
The pandemic has imposed a different rhythm on all of us. It has forced us to change our habits and even to review the "manias" that in a certain sense condition us. It has also led us to more intensely confront ourselves and with those with whom we live. Undoubtedly, the community and family environment will no longer be the same as before.  
Here in the General Curia and in the Collegio Internazionale gatherings and some activities of the whole community have been canceled. We have maintained the community Eucharistic celebration, adapting our chapel to the norms of distancing and committing ourselves to creating a healthy and serene atmosphere during quarantine time.  There has been more dialogue during meals with fewer of us sitting at the same table. The time was ideal for everyone to speak and share about their personal world.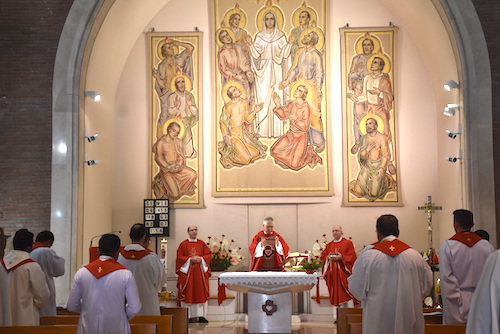 It has also been a favorable time, a Kairós for the canonical visit of the Superior General to the community of Rome II, which took place from the first Vespers on Sunday, May 10 to the Eucharistic concelebration of the Feast of the Ascension. In addition to a personal meeting with each of the confreres, during the two weeks, we also had 6 group meetings, to share ideas and suggestions based on the themes of the programmatic letter of the General Government 2018-2024.  
At the conclusion of this fraternal visit, the Superior General communicated on the amount of positive things received during the talks. They were not meetings to raise problems, but to promote life and optimism, so that each confrere may feel called to build a communal atmosphere of encounter and sharing, the 'culture of visitation'.
Another unique moment was the feast of Pentecost, preceded by the verification of this year's community project and the evening prayer vigil.  
Fr. Stefan Tertünte presided at Holy Mass on the day when the community celebrated his 25th anniversary of priestly ordination. In his homily he spoke of participation, a word that is present in our Constitutions. 
"Whoever reads or just browses through our Rule of Life, perhaps will be surprised to see how many times the word participation is used: They say that we participate in the work of reconciliation; we participate in the mission of the Church; we participate in the building of a new humanity; we participate in the common work of the whole Congregation; we participate in the one bread; we participate in the activity of the Spirit; and many other quotations would be possible. For our Rule of Life, participation is one of the privileged ways to relate". 
What this term describes coincides with what we have experienced in our community in recent months.