---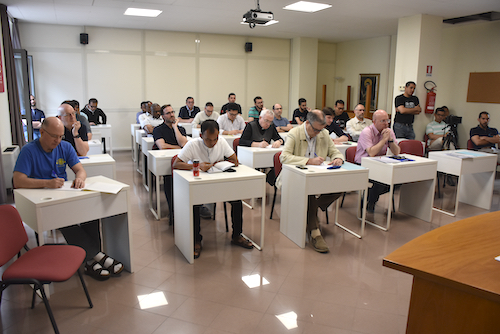 The Dehonian Study Center, located in the Generalate, is a place that attests that "the Dehonian heritage is material worthy of study, with scientific rigor, with its own epistemology and in dialogue with other disciplines". On June 13, 2020 the Generalate community in Rome was able to participate in the closing ceremony of the five-year course of Dehonian Scholarship by Fathers Emmanuel Nanduri and Victor de Oliveira Barbosa.
In their presentation they spoke of the activities carried out in the Study Center and the future prospects for taking advantage of the skills they acquired. In addition to receiving the title "Specialists in Dehonian Studies" they received good wishes and advice: be responsible, humble, curious, courageous, involved, skilled and proud of the research and intellectual apostolate to which they have been called. 
Fr. Stefan Tertünte, Director of the Study Center, took the opportunity to thank Fr. Juan José Arnaiz Ecker, former Deputy Director of the Center, who was recently appointed Provincial Superior of the Spanish SCJ Province. After being thanked for his contribution in the history of the Study Center, he also received an appointment as a Type B Member of CSD, that is, a person who is dedicated part time to Dehonian research.
To conclude his remarks, Fr. General remembered Fr. Alberto Bourgeois SCJ, the founder of the Dehonian Study Center, whose centennial the congregation will commemorate next year. He stressed that "open dialogue with Father Dehon", inaugurated with foresight by the 5th Superior General, receives new hope with scholarship, which is a continuous listening to Father Dehon who "still has so much to say to us". He wished the new specialists and the entire Center fruitful and effective activity for the Congregation and the Church.