---
In view of the Feast of the Sacred Heart of Jesus this year, the Generalate community decided to experience a preparatory Triduum in the context of Eucharistic worship. After the chaplet of the Sacred Heart of Jesus, Sister Francesca Balocco of the Dorotee Sisters of Santa Paola Frassinetti shared her reflections. She helped us to enter into the compassion of the Heart of Jesus, with its wealth and possibilities for us as disciples. This compassion is not an emotion, but a force that pushes from within to go towards the other, to let oneself be touched by suffering, and to search for the good in  others.
On the Feast of the Sacred Heart, we had the joy of having the Cardinal Secretary of State, Monsignor Pietro Parolin, in our community, who fraternally accepted the invitation to celebrate Mass.  
We received and greeted the Cardinal in the lobby after he arrived in a small and simple blue Ford. There was the opportunity to introduce ourselves and share with him some elements of our Dehonian life, work, study and charism.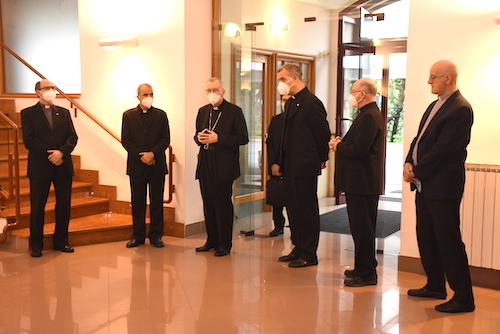 In his homily (here the complete text) his Eminence reminded us that the richness of the Sacred Heart not only reveals God's merciful love, but also his real love for us. This is how it was shown to Saint Margaret Maria Alacoque, – whose name bears the surprising meaning of 'pearl' – as we remember the centenary of her canonization. Like her, we too "are precious in his eyes". This truth is manifested to us by the Sacred Heart of Jesus, to the point that in his spiritual testament Father Dehon dares to write: "I leave you the most wonderful of treasures, the Heart of Jesus". Of course, our responsibility lies in the ability to derive the multiple benefits from this most sacred Heart. 
It was a solemn celebration, yet marked with a calm and joyful fraternity. Cardinal Parolin took the opportunity to recognize and thank us for that.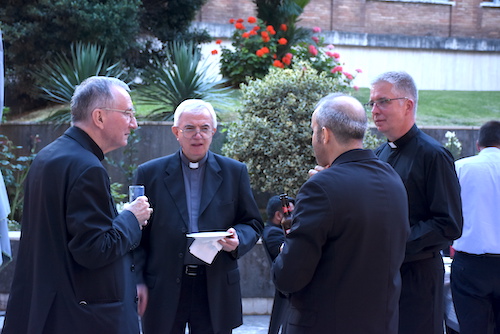 A festive banquet followed, with a greeting from the Superior General and the blessing of the food by the Cardinal, who during his visit among us found himself feeling very much "at home".
We are grateful for this beautiful 'gift', which is also for the whole Congregation, and which makes us experience more and more how we are 'precious in the eyes of the Heart of Jesus'.
The homily of the Cardinal Secretary of State, Monsignor Pietro Parolin