---
Friday, 26 June 2020 was a special day in the SCJ-Rome Generalate community. In the evening, all the members of the community gathered in the chapel for the celebration of Te Deum di Ringraziamento. It was an action to close the 2019-2020 Academic year. On that occasion, we intended to take time to thank God for the many graces we have received, especially in the past year.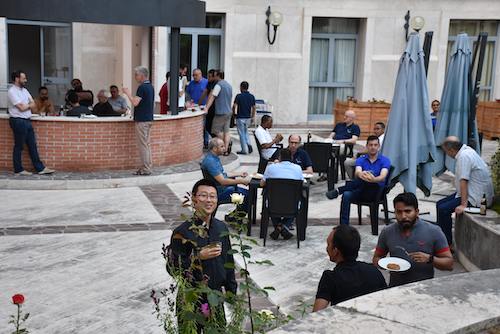 Meditating on the Word of God, in particular the Gospel of John 15, 9-17, Father Bruno Pilati, superior of the community, invited all the members to realize the grace of God in every past event, both personal and communal. "We are here to say 'thank you' … We have recognized many facts and moments of the presence of God's love for us." After the final blessing, the celebration of Te Deum ended with a prayer to Mother Mary with the song Magnificat. By singing that song, we wanted to praise God at all times in our lives like the Blessed Virgin Mary.
This prayer event continued with an outdoor dinner to recognize the members of the community who are leaving: Fr. Celson Altenhofen (IAG) who finished his mission as procurator of the congregation, Fr. Manuel Alexander Lagos Rodriguez (VEN), who recently completed his psychology license at the Gregorian University and Fr. Zhang Yu Lai, a diocesan priest belonging to the diocese of Hengshui-China who just completed his canon law degree at the Lateran University.
This beautiful event was made even more fun with a game that involved all the members of the community. At the end of the event, everybody in the community shared information about their summer program. Finally, we ended the joyful evening.