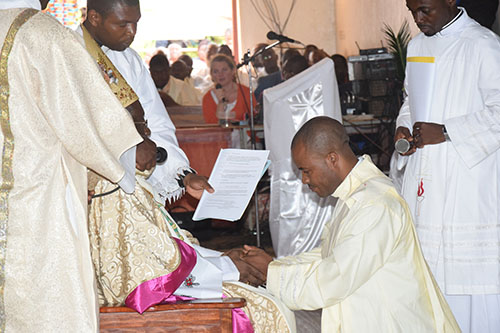 On the April 22, 2017, during the Easter octave, on the eve of the Divine Mercy Sunday, the shouts of joy of the Risen Lord continued to resound in the Cameroon Province, and indeed in the whole SCJ congregation for the gift of five newly ordained priests through the laying on hands of Mgr Dieudonné Watio, bishop of the Bafoussam Diocese. Together with these men were one priest from the Congregation of the Little Brothers of Jesus and three priests and two deacons from the Bafoussam Diocese. Our newly ordained priests are Frs, Aurelien Tikun, SCJ, Innocent Yomi SCJ, Collins Etienne SCJ, Hervet SCJ and Philbert SCJ.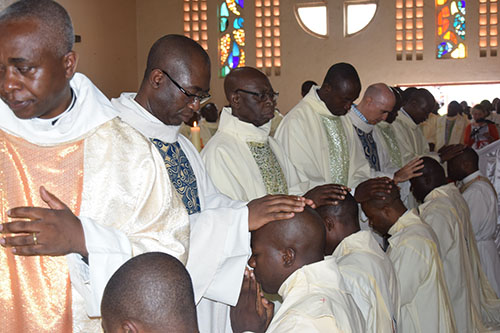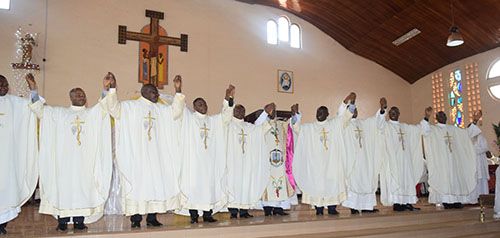 The celebration was equally enriched with the presence of Bishop Emmanuel Ndassi, auxiliary bishop of Bafoussam, Bishops Antoine Ntalou and Vandame, both emeritus bishops of the Garoua Archdiocese (Cameroon) and Ndjamena (Chad), and more than 100 priests at the altar.
Various cultural expressions colored the long and beautiful liturgical celebration which lasted about four-and-a-half hours. The joy continued the following day on Divine Mercy Sunday in different places with the thanksgiving masses. No doubt that we as a Dehonian family can say that we have received grace upon grace this Easter. We wish fruitful ministry for our dear confreres who have accepted to respond to the Lord who called them to His vineyard.