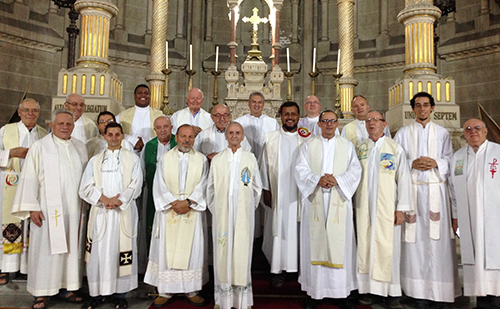 The annual assembly of the Argentine Province was held February 6-10, 2017. The days were a moment to lend guidance to the new administration; each day was dedicated toward evaluating and planning for a pastoral area.
Joining Argentine Dehonians at the meeting were Fr. Stephen Huffstetter, general councilor, and future members of the territorial community of Uruguay (Fr. Rino Venturin, Fr. Joaquín Izurzu, Fr. Adriano Marques and Fr. Simón Pedro Santos). We also enjoyed the presence of Fr. Julián Braun of the nearby Chilean Province. Acknowledged were the Italian missionaries Fr. Guido Marianni and Fr. Luciano Ropat, who after a life spent at the service of the Argentine Province, return to Italy.
On the 8th the group went on a pilgrimage to the Basilica of the Sacred Heart in the Barracas District, which is ministered to by the Batharram Fathers. With a Eucharistic celebration the Argentine Province installed its new administration: Fr. Leonardo Zampa (provincial superior), Fr. Marcelo Reynoso, Fr. Hugo Salas and Fr. Lino Frizzarin (council members).
On the occasion of this assembly we launched our Facebook page. We have also re-launched the web page.
These initiatives are important to developing more effective communications in the congregation.