The Colloquium of the Dehonian Major Superiors in Rome continues, addressing challenges that are brought forth from the personal experiences of the participants, who, through the sharing of their experiences, offer a profound reflection on the figure of the superior: what he represents and what is expected from him.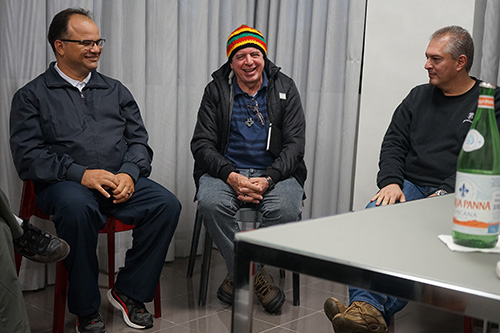 On the afternoon of Wednesday, November 15, the theme of time management was addressed, the balance between commitment to spiritual care and personal formation. Of particular interest were the interjections of Fr. José Munilla Martínez (ESP), Fr. Alexander Sapta Dwi Handoko (INA) and Fr. Alejandro Iglesias Benito (VEN).
Fr. José stressed the difficulty of being able to always be present to meet the demands of the confreres and the communities. Sometimes one has the feeling of not properly accompanying in service. That is why the provincial council is crucial. To be a superior means that one has to be more attentive, everything that the superior does is done so "as superior" and no longer as a single individual.
Recalling the three-year plan of the Indonesian Province, Fr. Alexander said that the figure of the Dehonian is strengthened as a "Prophet of Love," the future growth of the congregation depends on our proximity to the people, and to families especially, which can lead to new vocations.
Fr. Alejandro, sharing his experience, stated that the many commitments that require attention and the limited number of VEN confreres often leads to frequent substitutions with each other so that everyone is aware of the work that is taking place. The current political situation in the country has also led to sharing more time with the people. Good climate in the communities allows for good work.
Group work focused on the theme of mutual listening, whose conclusions were then brought forth to the assembly, following the sharing of Fr. Ronilton Souza de Araujo (BSP), who spoke about listening to others.
The next morning, November 16, was marked by the intervention of Fr. Oliviero Cattani (ITS), which was done as an interview of those present, from which emerged several ideas for reflection. According to Fr. Oliviero, we must never lose sight of "Sint Unum" as the ultimate end, focusing particularly on three points: 1) personal perception of the service of authority which must guide us as superiors, allowing us to be aware of our abilities and our limits –– we must have a clear picture of our service, like a bus driver who risks not only his own life but especially those who travel with him –– never forgetting to put the confreres first; 2) developing true relationships, earning confreres' esteem and not being a guardian; and 3) creating community models that are spaces for real fraternal sharing.