16 November 2017
16 Nov 2017
Apostolic nuncio main speaker at Dehon Lecture
Archbishop Christophe Pierre, Apostolic Nuncio to the United States, was the presenter at the November 8th Dehon Lecture at Sacred Heart Seminary and School of Theology in Hales Corners, WI. His topic: "The Heart of the Priest."
"Today, the Church needs joyful, missionary disciples – heralds of the Good News, formed after the Sacred Heart of Jesus. This was also the desire of the Venerable Leo John Dehon, the founder of the Priests of the Sacred Heart. It might seem strange to think of priests as disciples rather than as leaders, but the new Ratio Fundamentalis, issued in December 2016, emphasizes just that: It is particularly necessary for the priests today to understand themselves as missionary disciples."
What does it mean to have a "priestly heart, configured to the heart of Christ?" Archbishop Pierre referred to the homilies given by the pope on the Solemnity of the Sacred Heart of Jesus each year. In 2013, he said, Pope Francis focused on two dimensions of love. "First, love is expressed more clearly in actions than in words, and second, there is greater love in giving than in receiving," he said.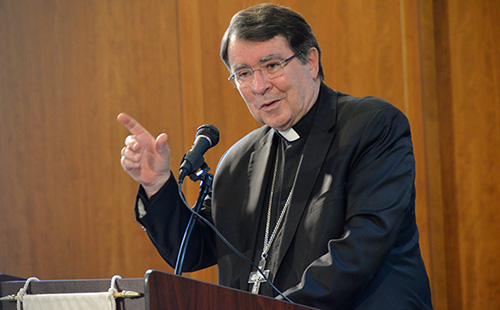 Archbishop Pierre said that Pope Francis invites priests to contemplate the Heart of Christ. In his 2016 homily for the feast of the Sacred Heart the pope said that "Contemplating the Heart of Christ, we are faced with the fundamental question of our priestly life: Where is my heart directed? It is a question we need to keep asking, daily, weekly… Our ministry is often full of plans, projects and activities: from catechesis to liturgy, to works of charity, to pastoral and administrative commitments. Amid all these, we must still ask ourselves: What is my heart set on?"
The archbishop concluded by stating that "Today, the Church needs priests who are close not only to the people but to the Lord. Like the beloved disciple, we too must contemplate again and again the riches of the Heart of Christ, giving the mercy and love of God primacy in our hearts. This is the Church's expectation for its clergy today. The task is daunting, but it is not impossible. Saint John Vianney is reported to have said, "the priesthood is the love of the Heart of Jesus." This is certainly true, and His love will never abandon you.
Click here to read Archbishop Pierre's full text.