04 ottobre 2016
04 ott 2016
Meet the 2016-17 Dehon Formation Community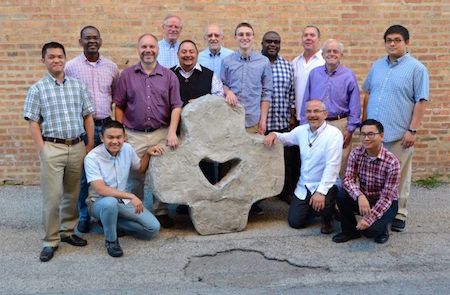 The Dehon Formation Community in Chicago is home to an international, intergenerational community of professed SCJs and those discerning religious life with the congregation. The community not only houses the initial formation programs (candidacy, philosophy and theology) of the province but also welcomes SCJs from around the world on sabbatical or in graduate programs.
This year the community welcomes several new members, including Fr. David Szatkowski and Fr. Bob Tucker on the Formation Team. After nine years in formation, many of them as superior of the Dehon Formation Community, Br. Duane Lemke is on sabbatical this year. "On behalf of the province I thank Br. Duane for his dedication to and work for the formation program," said Fr. Ed Kilianski. "He has done much to make the Dehon Formation Community a house of welcome to many, not only in the province but to the congregation."
As they do each year, members of the community –– candidates and SCJs –– introduce themselves on the province website. Among them is Henry Nguyen who is a second-year candidate. Born and raised in Orange County, Calif., he earned a bachelor's in psychology before beginning his theological studies at Catholic Theological Union in Chicago.
"I am interested in being a Dehonian as they seek to work with the poor and are to be among the people," wrote Henry. "This past summer I was able to visit and work with the SCJ community in Mississippi at Sacred Heart Southern Missions. This experience deepened my desire to be an SCJ as I had the opportunity to work along and among those who are a part of the SCJ presence. It was a great experience to see SCJs in action.
"I have been involved with parish ministries for many years now. I am currently a Youth Leader at St. Henry's Parish and Queenship of Mary where I assist youth with their journey of faith and to grow closer to God."
Henry is one of four candidates living in the community, along with three SCJs in temporary vows and six in final vows.
The community also includes Frater Juan Carlos Castañeda Rojas, who is doing his pastoral year in Brazil, and Angel Romero, a candidate starting with ESL at SHSST before beginning his studies in Chicago.
"What interests me in this religious community are the ideals of the founder, Fr. Leo John Dehon, in regards to spirituality and social justice," wrote Angel, who prior to candidacy worked in law. "Today, I see this reflected in the defense of human rights and civil rights of people."
Click here to read more about the members of the formation community.
Do you know of someone who is discerning a vocation to religious life? Contact the province vocation office for information about a Come and See experience with the formation community. Call 800-609-5559 or
click here to email the vocation director.